Enjoy Percussion Plus Project and Guest Cellist at October 30 Concert
October 23, 2006
Complete ArtsFest 2006 Schedule
October 23, 2006, Greencastle, Ind. - The Percussion Plus Project, an ensemble in residence at DePauw University, will present a concert of works for percussion plus cello on Monday evening, October 30. The 7:30 p.m. concert, presented as part of DePauw's ArtsFest, will take place in the Performing Arts Center. The audience is invited to enjoy the concert, which is free and open to all, from seating on the stage.
Cellist Emilio Colon, a member of the Indiana University School of Music faculty, will be the program's featured soloist. A native of Puerto Rico, Colon won the Pablo Casals Medal upon graduation from the Puerto Rico Conservatory of Music, and later studied with Janos Starker at Indiana University. He is active internationally as a concerto and recital soloist and chamber musician, serves as the director of the Indiana University Cello Ensemble, and is the executive vice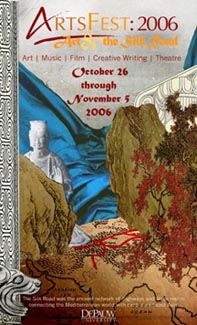 president of the Eva Janzer Memorial Cello Center Foundation.
The concert will feature Chinese composer Tan Dun's 1991 work, "Elegy: Snow in June," for amplified cello and four percussionists. The composition contrasts the lyrical voice of the cello with the traditional Chinese drumming that Tan made famous in his Academy Award-winning soundtrack for the film Crouching Tiger, Hidden Dragon, as well as unusual sounds like stones falling and the tearing of paper.
Also on the program will be a recently expanded version of a piece by DePauw School of Music faculty member Carlos Carrillo: "Dueling with time, bartering for minutes of existence," which was composed for the Percussion Plus Project; and a work by David Baker, director of jazz studies at Indiana University, entitled "Singers of Songs - Weavers of Dreams."
Visit the DePauw University School of Music by clicking here, and learn more about ArtsFest here.
Back