DePauw sweeps SCAC Player of the Week honors
October 18, 2006
October 18, 2006, Greencastle, Ind.
- DePauw running back Jeremiah Marks and defensive end Dustin Hertel swept the Southern Collegiate Athletic Conference Player of the Week honors for their performances in a 27-6 win at Rhodes.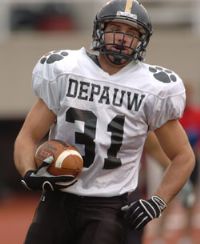 Marks was named the conference's offensive player of the week for the third time in his career and second time this season after rushing for 114 yards on 28 carries and three touchdowns. The junior rushed for 51 yards on 14 carries during the fourth quarter when the Tigers scored twice to put the game away. Marks moved into third place on DePauw's all-time rushing list with 2,507 yards and the touchdowns increase his school-record total to 34. He is currently fourth on the DePauw scoring list with 210 points. For the season, Marks leads the SCAC in both rushing and scoring, averaging 117.3 yards and 8.0 points per game. He is also third in the league in all-purpose yards at 145.7 yards per game. Marks ranks 22nd in Division III rushing, 30th in all-purpose yards and 35th in scoring.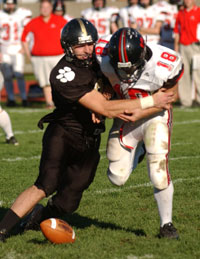 Hertel was named the defensive player of the week for the fifth time in his career and second this season. He had nine total tackles, including seven solo, in the win at Rhodes in which the DePauw defense allowed Rhodes just 40 rushing yards on 29 carries. Hertel also added 2.5 tackles for loss for 23 yards, including two sacks for losses of 20 yards. He forced a fumble on one of the sacks. For the season, Hertel has 40 tackles (13th in the SCAC), leads the league in sacks (8.0) and tackles for loss (15.0) and is tied for second in the SCAC in both forced fumbles (2) and fumble recoveries (2). He ranks third in the nation in tackles for loss and fifth in sacks.
Back