Siberian "Throat Singers" and Laurie Anderson Collaborators 'Chirgilchin' at DePauw November 4
October 28, 2006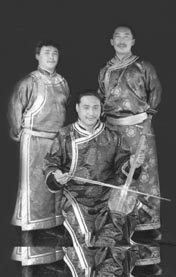 October 28, 2006, Greencastle, Ind. - A rare performance by Chirgilchin, master throat singers from the Tuva Republic in southern Siberia, will open DePauw University's Performing Arts Series on Saturday, November 4. The 7:30 p.m. concert, the first musical event of the Series' 2006-07 season, will take place in the Performing Arts Center's Thompson Recital Hall.
Free and open to the public, the program will feature ancient folk songs in the Tuvan language and performances on-hand made instruments.
"Throat singing" is an extraordinary vocal form in which one singer produces two or more low resonating sounds in the throat that harmonize. Tuva is known to have the best throat singers in the world, with the three singers that compose Chirgilchin known as top performers in the area.
Igor Koshkendey has won international throat-singing competitions and twice won the Tuvan International Throat Singing Competition, singing and winning in all of the six styles of throat singing.
Mongoun-Ool Ondar won the Tuvan International Throat Singing Competition at the age of 16. He is recognized as a master of all six styles of throat singing, and has developed a new style of his own.
Aldar Tamdyn won "Best Instrumentalist" at the 2000 International Folk Music Festival in Tuva, playing the strings of the morin-huur and the byzaanchy. He is the director of the National Tuvan Orchestra of Traditional Instruments. He builds instruments that are played by Chirgilchin and other Siberian musical groups.
Chirgilchin is also known for collaborating with American musician Laurie Anderson, who recalls, "I first heard Chirgilchin at the Rubin Museum [of Art] in the spring of last year and I was immediately entranced with their incredible sounds." Since then, Chirgilchin has joined Anderson in recording sessions and concerts.On November 25 and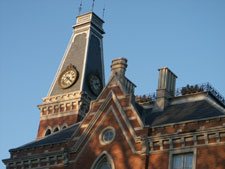 26, Chirgilchin will celebrate its tenth anniversary by joining Anderson in concerts at San Francisco's Herbst Theatre.
Visit Chirgilchin online by clicking here.
The DePauw University Performing Arts Series highlights top international and national performers in music, dance and theater. The Anonymous 4 with special guests Darol Anger and Scott Nygaard will be featured on the next series concert, Wednesday, November 29, at 7:30 p.m. in Thompson Recital Hall. For more information about programs and upcoming events, click here or call (765) 658-6737.
Back