Indianapolis Monthly Interviews John McWethy '69, Previews DePauw Discourse
October 19, 2006
DePauw Discourse 2006 Schedule, Bios and Information
October 19, 2006, Greencastle, Ind. - "When you have a conversation with Lee Hamilton, you are talking to an absolute goldmine of wisdom and knowledge," John McWethy tells Indianapolis Monthly. The magazine features a Q&A with the veteran network television news correspondent and 1969 graduate of DePauw University in its "Things to Do This Month" feature.
"McWethy served as chief national security correspondent for ABC News for two decades," the article notes. "On October 26, he returns to his alma mater, DePauw University, for its 'DePauw Discourse' symposium and moderate a discussion titled 'How Deep is America's Crisis' with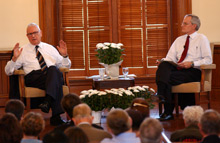 Lee Hamilton, the former Indiana congressman now serving as co-chair of the Iraq Study Group and vice chair of the 9/11 Commission."
Of Hamilton, a 1952 graduate of DePauw, McWethy tells the magazine, "It's always nice to be involved in a forum like this where I can ask him hard questions and see where he comes down on the tough issues." (at right: Hamilton and McWethy at DePauw Discourse 2004)
McWethy maintains, "America is in a real bind right now. I don't know that it does our nation a lot of good to point fingers at who is to blame. The way ahead is what we need to focus on, and that's some of the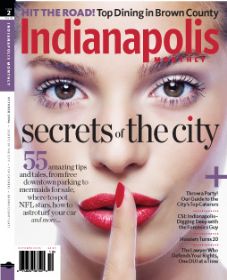 ground I hope to cover with Lee Hamilton."
Recalling the morning of Septmber 11, 2001, McWethy says, "I had just finished a series of live shots for Good Morning America when the first plane hit the towers. ABC immediately called me to 'wire up,' but before I could get on the air, the Pentagon shook, and we were hit. The halls immediately filled with smoke and panic. I never felt closer to the millions of people who were watching me as I did after the Pentagon was hit."
The October issue of Indianapolis Monthly, with the column headlined "Discourse Catalog," is available at newsstands now.
DePauw Discourse 2006, October 26-27, will also feature U.S. Secretary of Education Margaret Spellings, Pulitzer Prize-winner Taylor Branch, the New York Times' Bob Herbert, and President Bush's chief economic adviser, Allan Hubbard, among others. Visit the event's official page on the Internet by clicking here.
Back