DePauw Named to President's Higher Education Community Service Honor Roll
October 19, 2006
October 19, 2006, Greencastle, Ind. - DePauw University is on the inaugural President's Higher Education Community Service Honor Roll, a new federal program designed to recognize colleges and universities for their commitment to student service and to increase public awareness of the impact that college students have on their local communities. The program is co-sponsored by the Corporation for National and Community Service, the Department of Education, the Department of Housing and Urban Development (HUD), and the President's Council on Service and Civic Participation. It is presented in cooperation with Campus Compact, a national coalition of nearly 1,000 college and university presidents.
The President's Higher Education Community Service Honor Roll is designed to recognize the broad commitment to community service by institutions of higher education, including the level of student engagement as well as institutional support, such as service-learning courses, community service coordinating offices, and exemplary service projects. In its first year, the program placed a special emphasis on volunteer service performed by college students in the wake of last year's devastating hurricanes.
DePauw learned of its award as a group of nine from the University are spending their fall break aiding victims of Hurricane Katrina along the Gulf Coast.
"Institutions of higher education have a long tradition of service to their communities," says David Eisner, CEO of the Corporation for National and Community Service, which oversees Senior Corps, AmeriCorps,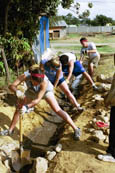 and Learn and Serve America. "When colleges organize effective community service programs, they do so not only to meet the needs of the communities that surround them, but to improve the academic and civic lives of their students, faculty, and staff. The Honor Roll is a great way to recognize the year-round civic contributions of our colleges and universities and to promote effective community service programs and practices."
"More than ever before young people are answering the call to serve; actively seeking out ways to improve the communities in which they live," adds Secretary of Education Margaret Spellings, who will be in Greencastle for DePauw Discourse 2006 next week. "This new program highlights the important role our colleges and universities play in not only equipping students to succeed in the workforce but also preparing and encouraging them to make a difference in the lives of others."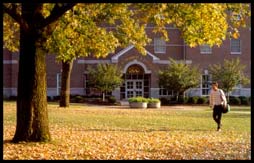 Approximately 70% of DePauw students engage in community service projects. According to UCLA's annual survey of 260,000 college freshmen, two out of three (66.3 percent) students entering college in 2005 said it is essential or very important to help others who are in difficulty. That is the highest this figure has been in the past 25 years, and an increase of 3.9 percentage points over the 2004 rate.
Access the complete list of institutions named to the Honor Roll by clicking here.
Back