"The Time is Right" for a Barack Obama Presidential Bid, Declares Prof. Ken Bode
October 20, 2006
October 20, 2006, Greencastle, Ind. - "Barack Obama, the rookie U.S. senator from Illinois, is looking out at America from the cover of this week's TIME magazine. It must be said that this is not so much for what he has done, but for what he might do," writes Ken Bode, Eugene S. Pulliam Distinguished Visiting Professor of Journalism at DePauw University, in today's Indianapolis Star. "Obama ranks 99th in Senate seniority and has been there for less than two years. Still, he admits to giving serious thought to a run for president in 2008."
The professor continues, "Why would Obama run so soon? The cliché about him is 'rock-star' charisma and movie-star good looks. But isn't it possible that he is more of a comet than a star? What has he actually accomplished in the Senate, critics ask? Why should he think of the presidency before he finds a real identity on the national stage, before he steps up to a single controversial issue or finds a profile-in-courage moment? All valid questions, but, maybe for these times, they are not the right ones to ask."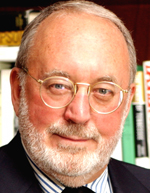 Formerly CNN's senior political analyst, Dr. Bode argues that Obama "has used his short time in the Senate to expand his horizons." In recent months, he senator has visited Africa, the Middle East, Russia and Eastern Europe, and has worked with Republican Senator Richard Lugar -- "not a bad mentor on the now critical issue of nuclear nonproliferation" -- on two pieces of legislation.
Bode asks, "Why run for president now? Because the time is right. In 1959, former President Harry Truman counseled John F. Kennedy to stay in the Senate, get a little more seasoning. But Kennedy understood that the country was at the end of eight years of Eisenhower, and if he did not run in 1960 the chance might pass. Obama would add energy and a message of inclusion to the Democratic mix in 2008. His candidacy would enable the party to add millions of unregistered black voters to the rolls, possibly making a few Southern and border states competitive in the general election. If he does as well as I think he could, he might win the nomination, or, as John Edwards
did in 2004, wind up on the ticket in the second spot. Many believe the most likely route for the first black president will be through the vice presidency. So, I say: 'Run, Barack, run!' "
Access the complete essay at College News.org.
Last Friday, Ken Bode analyzed the Iraq war as the mid-term elections approach. Access that column via this previous story.
Back