Nai-Ni Chen Dance Company Performs Here October 28
October 20, 2006
Also: ArtsFest 2006
Complete ArtsFest 2006 Schedule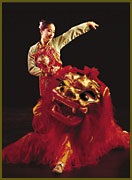 October 20, 2006, Greencastle, Ind. - The acclaimed Nai-Ni Chen Dance Company brings its collective talents to DePauw University on Saturday, October 28, for an evening of traditional Chinese dance. Presented as part of ArtsFest through the DePauw Performing Arts Series, the event begins at 7 p.m. in Kresge Auditorium and is free and open to the public.
Choreographer Nai-Ni Chen, originally from Taiwan, came to America in 1982 to pursue her dream of creating a world-class dance company which would combine elements from traditional Asian dance andmartial arts with Western modern dance. She founded Nai-Ni Chen Dance Company in 1988 and has gone on to garner a reputation as one of the most daring and innovative choreographers working in contemporary dance.
The Village Voice described the company's work as "visual poetry," while the New York Times said the choreography and dancers moved "like endless proliferating forces of cosmic energy."
At DePauw, Nai-Ni Chen will present their most traditionally based work, "Dragon's Tale," featuring the Lion Dance, the Ribbon Dance and the Fan Dance, among others. "Dragon's Tale" is intended for audiences of all ages, and promises colorful spectacle as well as movement of power and grace. The dance program is appropriate for entire familes: children, parents and grandparents are encouraged to attend.
For more information on DePauw's Performing Arts Series, contact coordinator Ron Dye at (765) 658-4689, or by sending an e-mail here. Visit the Nai-Ni Chen Dance Company online by clicking here.
Back