C-SPAN Radio Features 1964 Interview with Vernon Jordan '57
October 22, 2006
October 22, 2006, Greencastle, Ind. - A 1964 interview of Vernon Jordan, the legendary civil rights figure and 1957 graduate of DePauw University, is featured this weekend on C-SPAN Radio. The never-before-broadcast program comes from the Robert Penn Warren Civil Rights Oral History Collection at the University of Kentucky. The interview with Jordan was conducted by Warren, the first poet laureate of the United States, as the latter conducted research for his book Who Speaks for the Negro, published in 1965. The taped interviews were discovered while Warren's papers, also located at the University of Kentucky Libraries Special Collections and Archives, were being processed.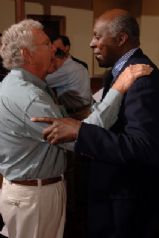 Access the audio program online by clicking here.
Next weekend, Jordan will help the Reverend Jesse Jackson celebrate his 65th birthday at a Chicago fundraiser. Vernon Jordan is also one of the ten members of the Iraq Study Group (which is co-chaired by another DePauw alumnus, Lee Hamilton '52). The panel is expected to present President Bush with recommendations on the war sometime before the end of the year.
Access clips of Jordan from DePauw Discourse 2005, as well as a speech he delivered at his alma mater in October 2001. Below you'll find a 1995 television station report on how Jordan impacted civil rights in Greencastle.
Back