Roger Wilkins and David Keene Predict Democrat Gains in Midterm Elections
October 23, 2006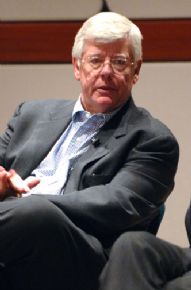 October 23, 2006, Greencastle, Ind. -

[Download Audio: "A Conservative's Prediction" - 120kb] "This is not going to be a good year for Republicans for situational reasons, for reasons of luck, for reasons of bad leadership and for historic reasons," David Keene, chair of the American Conservative Union, told an audience at DePauw University this afternoon. Keene and Roger Wilkins, a noted civil rights leader, professor of history, and Pulitzer Prize-winning journalist, discussed "The 2006 Midterms: A View from Both Sides" in a Gertrude and G.D. Crain Jr. Lecture.
The Iraq war will be an issue that weighs on voters' minds when they go to the polls in two weeks, as will the public's disdain for the work and behavior of Congress, says Wilkins (seen below right).

[Download Audio: "The Foley Scandal" - 406kb] "People who follow politics carefully would probably say this is an exceptional Congress for lack of achievement and ethical lapses," he told the crowd at the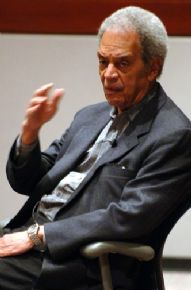 Pulliam Center for Contemporary Media's Watson Forum. "I don't think that would have been big until Representative (Mark) Foley's e-mails to the young pages was disclosed a couple of weeks ago, and I think that probably has pulled the whole issue of the Congress together and put it on the front burner as it wasn't before," Wilkins, Clarence J. Robinson Professor of History and American Culture at George Mason University, added.
While the war is clearly not going well, according to Keene, Democrats have not yet convinced Americans that they are better equipped to deal with issues of national security and terrorism.

[Download Audio: "A Lagging Historic Feeling" - 199kb] "There's a lagging historic feeling on the part of the public that Democrats don't handle these matters very well. So, while people are not particularly enamored either with the war -- why should they be? -- or with the handling of the war, they are nervous about what might happen should turn it over to someone else."
Both Wilkins and Keene feel Democrats will gain seats in the House and Senate, although neither sees the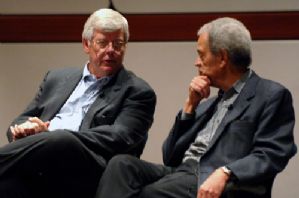 upcoming election as an inverted version of 1994, when Republicans picked up 54 seats in the House of Representatives and 8 in the Senate. Keene believes Republicans will lose 19 seats in the House this fall, while Wilkins predicts 25 GOP casualties. The two men each see Democrats adding 4 seats in the Senate.
The mood in 1994 was different, Keene argues. Democrats were in disarray, President Clinton's poll numbers were soft after his failed attempts to enact health care reform, and Republicans promised change through their "Contract with America," which the conservative admits, few voters had bothered to familiarize themselves with.

[Download Audio: "The '94 Elections" - 251kb] "That year, nobody knew what the Republicans might do. So they were disgusted with everything and they said, 'Let's give it to them.' This year, they know what the Republicans will do and they're afraid of what the Democrats will do. They're not very happy about it... There may still be a wave, but it could come late,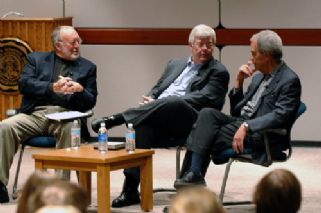 'cause they haven't decided if they're disgusted enough with the Republicans to take a chance on the Democrats."
Keene, who leads the nation's oldest and largest grassroots conservative organization, slyly noted of the two parties' themes this year,

[Download Audio: "2006 Themes" - 152kb] "The Republican theme is very simple, and that is, well we know you think we're jerks but you ought to get a load of these other guys. And the Democratic theme is: actually, they're bigger jerks than they're admitting to. It's not exactly a positive message from either party."
Moderator Ken Bode, Eugene S. Pulliam Distinguished Professor of Journalism at DePauw, asked the two experts to look ahead to 2008 and a possible presidential bid by U.S. Senator Barack Obama, which Bode explored in a Friday op-ed. Wilkins calls the freshman lawmaker "a natural," but wonders if America which has "come a long, long way" is yet
ready for an African-American in the Oval Office.

[Download Audio: "Wilkins on Obama" - 365kb] "If he were my younger brother, I would say very strongly to him, 'Don't do it, don't do it.' On the other hand... this kind of door doesn't open very often and it may only open once in a lifetime and I'm sure people are saying that to him."
Wilkins, who told Obama "don't rush" when the senator first arrived in Washington, adds, "Would I love to see somebody this wonderful and talented as president? Yes. But do I think that this is the time for him to do it? I'm not sure. I would still be cautious."
A Barack Obama presidential run would "obfuscate" Hillary Rodham Clinton's run for the White House, Keene says. But he cautioned,

[Download Audio: "Keene on Obama" - 643kb] "If there's buyer's regret about Bush, even among his own people, it's that he didn't have any experience that was relevant. They didn't know where he was coming from because he didn't have a record. And I think that Obama coming in with just a couple of years under his belt is liable to elicit the most serious criticism... aren't we just buying another pig in a poke? That doesn't mean he can't win, but I think it's a serious problem."
Wilkins and Keene -- who seemed to agree on many points during the lively session -- differed here. Wilkins responded,

[Download Audio: "A Response" - 151kb] "President Bush is demonstrably uncurious.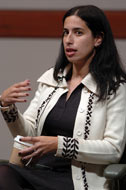 Senator Obama is very, very smart."
Endowed by Rance Crain, president of Crain Communications and a member of DePauw's Class of 1960, The Gertrude and G.D. Crain Jr. Lecture Series honors Mr. Crain's parents. Previous Crain Lecturers have included: Wall Street Journal reporter and 1996 DePauw University graduate Aaron Lucchetti, who discussed his experiences covering Hurricane Katrina; award-winning reporter Jerry Mitchell and civil rights activist Rita Bender, the widow of slain civil rights worker Michael Schwerner; Samantha Power, author of A Problem from Hell: America and the Age of Genocide; Emily Wax (seen at right), Africa Bureau Chief of the Washington Post, and her husband, Raymond Thibodeaux, who also covers the region for Cox News, Voice of America and the Boston Globe; political analyst Charlie Cook; military sociologist Charles Moskos; historian Douglas Brinkley, author of Tour of Duty: John Kerry and the Vietnam War; and Joe Trippi, who managed Howard Dean's presidential campaign.
Back