Newspaper Previews US Education Secretary's DePauw Discourse Speech
October 25, 2006
Official DePauw Discourse 2006 Web Site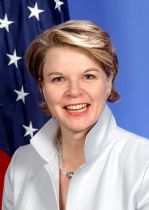 October 25, 2006, Greencastle, Ind. - U.S. Secretary of Education Margaret Spellings "will deliver remarks on educating citizens to compete and succeed in the new global economy at the DePauw Discourse 2006 at DePauw University's Performing Arts Center at 8 p.m." tomorrow, notes Indiana's Kokomo Tribune. Before coming to DePauw, Spellings will make a stop in Kokomo, where she "will tour Kokomo's Sycamore Elementary School (and) meet with U.S. Rep. Chris Chocola's education roundtable, as well as Kokomo Superintendent Thomas Little Jr. and other Kokomo-area superintendents, for about an hour, to discuss the federal No Child Left Behind Act and best practices in education."
Access the article by clicking here.
DePauw's two-day symposium begins at 4 p.m. Thursday when Lee H. Hamilton '52 and John McWethy '69 discuss "How Deep is America's Crisis?" Events will also feature President Bush's chief economic adviser, Allan B. Hubbard; author Taylor Branch; Bob Herbert of the New York Times; media ethicist Bob Steele '69; the Capitol Steps comedy troupe; and others.
Learn more about DePauw Discourse 2006: Issues for America here, and access the event's official Web page here.
Back