Jack Runninger '45 Inducted Into National Optometry Hall of Fame
October 26, 2006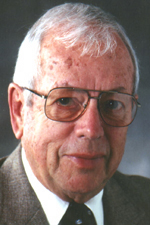 October 26, 2006, Greencastle, Ind. - Jack Runninger, O.D. -- lecturer, author, humorist and 1945 graduate of DePauw University, is a new member of the National Optometry Hall of Fame. Dr. Runninger was one of seven individuals inducted into the Hall October 12 at the EastWest Eye Conference in Cleveland. The induction noted that Runninger "is the closest thing to Will Rogers that optometry has produced."
Runninger was recognized for his lifetime achievements that have advanced the profession of optometry. For more than 50 years, he has been active in state and national optometry organizations. As an award-winning writer and editor, Runninger has enlightened, entertained and educated optometrists through his anecdotes and tips about the importance of communicating effectively. He is a past editor of Optometric Management.
Runninger was selected by a National Optometry Hall of Fame committee, which was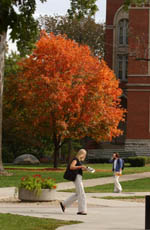 chaired by Arol Augsburger, president of the Illinois College of Optometry, and included representatives from the Association of Schools and Colleges of Optometry, College of Optometrists in Vision Development, National Optometric Association, American Optometric Association and American Academy of Optometry. Read about the 2006 inductees here.
The EastWest Eye Conference is the premier optometric conference in the Midwest. The conference is coordinated by the Ohio Optometric Association in partnership with the New York State Optometric Association and held annually for optometrists, opticians, optometric and ophthalmic staff, industry representatives and others.
Runninger is a 1947 graduate of Southern College of Optometry, from which he also received a honorary Doctor of Ocular Science degree.
Back