US Education Secretary Praises DePauw's Internationalization Initiative in Discourse Address
October 26, 2006
Official DePauw Discourse 2006 Web Site
Also: "No Easy Solution" in Iraq, Says Study Group Co-Chair Lee Hamilton '52
October 26, 2006, Greencastle, Ind. -

[Download Audio: "The Critical Currency" - 145kb] "Today, what you know is more important than where you live," U.S. Secretary of Education Margaret Spellings told attendees of DePauw Discourse 2006: Issues for America tonight. "Jobs can be done just as easily in Bangalore or Bombay as they are in Boston. And in this new flat world, knowledge is the critical currency needed to succeed and thrive, not only for ourselves as individuals but for our country."
Spellings addressed a crowd in the Performing Arts Center's Kresge Auditorium on the topic, "Educating Our Citizens to Compete and Succeed in the New Global Economy."

[Download Video: "The Internationalization of DePauw" - 1511kb] "Here at DePauw you already recognize the importance of providing students with a global perspective," the secretary stated. "Your efforts to increase international student enrollment here, to encourage study abroad programs and to emphasize language profiency, which is so critical to the flattening world, will help your graduates be better prepared to participate and lead in the new global economy."
Spellings noted that 90% of America's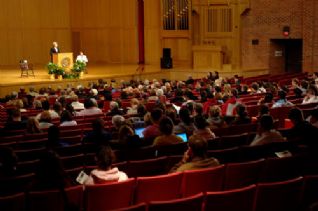 fastest-growing jobs require post-secondary education, yet 60% of the nation's adults have never been to college. Unemployment among college graduates is 2% compared to 4.6% overall. She added that a worker with a college diploma earns almost 40% than a worker without such a degree.

[Download Audio: "Must Have" - 192kb] "For generations, a college education has often meant the difference between a life lived on the edge of promise and one lived in the full embrace of the American dream," Spellings declared. "That's even more true today, and of course gets truer and truer every day. It used to be that you really could earn a good living off the sweat of your brow in this country, but that's changing. A college education has gone from a 'nice to have' to a 'must have,'" she continued.
Spellings,
the 8th United States Secretary of Education, was confirmed by the U.S. Senate on January 20, 2005. During President George W. Bush's first term, Spellings served as Assistant to the President for Domestic Policy and helped craft education policies, including the No Child Left Behind Act. She was also responsible for the development and implementation of White House policy on immigration, health, labor, transportation, justice, housing, and other elements of President Bush's domestic agenda. Prior to her White House appointment, Spellings worked for six years as Governor George W. Bush's senior adviser with responsibility for developing and implementing the governor's education policy. Previously, Spellings served as associate executive director of the Texas Association of School Boards.
In her DePauw Discourse address, Spellings discussed the work of her Commission on the Future of Higher Education. The panel's recommendations, announced last month, include creating a national database of college students' academic records, streamlining the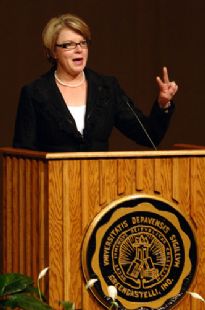 process of applying for federal student aid, and offering matching funds to colleges and states that collect and publicly report how well their students learn.

[Download Audio: "The Most Basic Question" - 110kb] "You can find plenty of rankings in college guides out there, information about Greek life, and 'schools that rock,' and jazz clubs and on and on, but you're out of luck if you want to find out the answer to the most basic question of all: How much are students learning?," Spellings stated.
The one million teens who drop out of American high schools each year must be reached early in their educational experience, the secretary says, noting that No Child Left Behind -- enacted in 2001 -- is showing "great progress" in improving math and reading skills of young students. Spellings wants to align high school standards with college course work so that students are better prepared to continue their studies after high school.

[Download Video: "Accessing the Dream" - 1108kb] "We must continue this national dialogue on how we can strengthen higher education to best meet the needs of students in the twenty-first century," she concluded. "Our aim is to ensure that, in a new era of global competition, higher education remains the path to the American dream and that more Americans have access to that dream."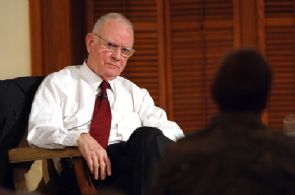 Read the complete speech at the Department of Education's Web site.
Earlier today, Lee Hamilton, co-chair of the Iraq Study Group and 1952 graduate of DePauw University, opened DePauw Discourse 2006: Issues for America with a session entitled "How Deep is America's Crisis?"
The two-day symposium continues tomorrow with sessions featuring a number of guests, including President Bush's chief economic adviser, Allan Hubbard, and Pulitzer Prize-winner Taylor Branch.
Learn more in this story, and visit the DePauw Discourse Web page by clicking here.
Back