Taylor Branch Discusses 'The Biographer's Craft' at DePauw Discourse Session
October 27, 2006
Official DePauw Discourse 2006 Web Site
Also: Headlines Belie Strength of US Economy: Presidential Adviser Allan Hubbard
Also: US Education Secretary Praises DePauw's Internationalization Initiative
Also: "No Easy Solution" in Iraq, Says Study Group Co-Chair Lee Hamilton '52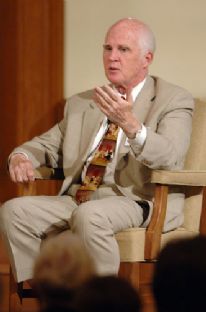 October 27, 2006, Greencastle, Ind. - Pulitzer Prize-winning and best-selling author Taylor Branch had access to some uncommon historical resources, taped telephone conversations of President Lyndon B. Johnson, which helped him tremendously in writing his books about America's civil rights movement and Martin Luther King Jr. Speaking about "The Biographer's Craft" during a session of DePauw Discourse 2006 in East College, Meharry Hall this morning, Branch expressed concern about the the nation's ability to preserve current historical materials for future generations.
"We're overwhelmed with paper but underwhelmed with records of human drama of humans running government," Branch said.
That is part of the reason he felt it was important to participate when president-elect Bill Clinton asked him in 1992 to assist with a project to chronicle Clinton's presidency. Branch recommended Clinton keep an oral history or diary of his presidency. "While I was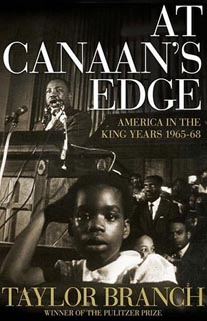 writing the (award-winning) book (At Canaan's Edge: America in the King Years)," he explained, "I worked to help Clinton keep a running history of his presidency. "
Branch eventually conducted 89 taped sessions with Clinton in order to record the president's thoughts and deeds while in the White House. Branch also taped his own personal observations about Clinton and the president's state of mind as a memoir of the process. Clinton drew on the tapes when he wrote his biography, My Life.
Drawing from his book trilogy, America In the King Years, Branch shared his insights into Martin Luther King's leadership and the civil rights movement with the alumni, faculty members and students attending the DePauw Discourse session. Branch grew up in King's hometown, Atlanta, and saw the civil rights movement happening around him and segregation was a "fearful issue." Although he went on to become a journalist in Washington, D.C., and was a ghost writer for other books, he said, "I always wanted to get back to the civil rights movement. The civil rights movement was the emotional interior that changed my life's work."
Branch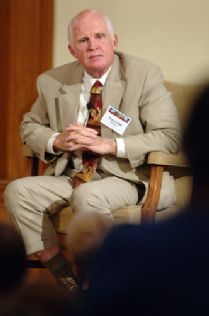 discussed issues about how the federal government responded to the civil rights movement, including how FBI Director J. Edgar Hoover used FBI wiretapping in order to monitor King, politicians and other civil rights figures.
He also said that President Johnson is usually not given enough credit for his role in supporting the civil rights movement, and he praised Johnson for his understanding of how the presidency should work. "Johnson said presidential leadership does not mean you have to be the first to raise an issue," Branch explained. "You have to know where you're going and have someone else make it happen. That is still relevant today."
King's philosophy of non-violence was "a powerful agent" during the civil rights movement, and it is needed in contemporary society, although it doesn't have the same level of awareness, according to Branch. "King would argue that non-violence is at the heart of democracy," Branch said. "The civil rights movement ought to be a public model for upkeeping democracy, but we don't think about it that way. It should be a model for moving democracy forward.
"If you don't have a public discourse, you can't get anywhere. A lesson from the civil rights movement is

that you have to create an open public discourse from citizens. The civil rights movement was an inspiration, and that's real politics," he said.
To read more about DePauw Discourse 2006, view a schedule of events and access biographies of speakers, including Taylor Branch, click here.
Back