DePauw Alum is "On to Something" to Fix "Broken" System, Bob Herbert Writes in Today's New York Times
October 30, 2006
Also: America "Moving Backwards," New York Times' Bob Herbert Reports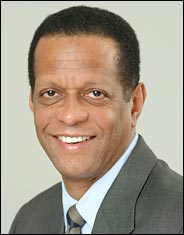 October 30, 2006, Greencastle, Ind. - "DePauw University held a two-day conference last week on issues confronting the U.S.," writes Bob Herbert, who was one of the DePauw Discourse 2006 presenters, in today's
New York Times
. "I was struck by the extent to which the people who attended the forums were interested in seeking out practical, nonpartisan, nonideological solutions to the wide range of problems discussed."
The op-ed columnist says, at DePauw, "The frustration with the current state of government and politics was palpable. One man, Ned Lamkin [DePauw '56], asked me if it wouldn't be a good idea to create some sort of national forum for a serious extended discussion of ways to fix, or at least improve, the system. He's on to something. Among other things, I'd love to see a nonpartisan series of high-profile, nationally televised town hall meetings that would explore ways of making government and politics fairer, more open and more responsive to the will of the people."
In today's column, Herbert argues -- as he did Friday in Meharry Hall -- that "the system is broken." He declares, "If you pay close attention to the news and then go out and talk to ordinary people, it's hard not to come away with the feeling that the system of politics and government in the U.S. is broken. I spent the past week talking to residents in Chicago, southern Michigan and Indiana. No one was happy about the direction the country has taken, but not even the most faithful voters were confident that their ballot would make any substantial difference... The politicians, special interests and the media are in a state of high excitement over next week's midterm elections. They are addicted to the blood sport of politics, and this is a championship encounter. But that excitement contrasts with what seems to be an increasing sense of disenchantment and unease that ordinary Americans are feeling when it comes to national politics and government. For far too many of them, the government in Washington is remote, unresponsive and ineffective."
In Bob Herbert's view, "American-style democracy needs to be energized, revitalized. The people currently in charge are not up to the task. It's time to bring the intelligence, creativity and energy of the broader

population into the quest for constructive change."
Access the Times online here (a subscription is required to read the complete column). A summary of Bob Herbert's remarks at DePauw Discourse 2006: Issues for America can be found in this previous story.
Back