Erma Bombeck Provides Humor and AT&T Executive Speaks of DePauw Graduates' "Enormous Opportunities" at 142nd Commencement
May 23, 1981
May 23, 1981, Greencastle, Ind. - "I remember my own graduation -- just like it was 32 years ago yesterday," quipped humorist Erma Bombeck to the 542 candidates for degrees of their own at DePauw University's 142nd commencement today. Bombeck was among six recipients of honorary degrees. She joked, "It was sort of a piece of cake for me. All I had to do was rack up 144 credit hours or something like that, return all my library books, and show up. That was it."
Turning serious, Bombeck told the Class of 1981, "I hope I am here because I have had the courage to laugh in these times, for I think next to compassion, laughter is the only legacy that sustains our entire population."
James Olson, vice chairman of AT&T, addressed the graduates at today's ceremony. "Today, business and society ... are looking to institutions like this one for graduates who understand what it means to be accountable along with knowing accounting, who understand ethics as well as English lit, who learn leadership along with language, and who come out of college with good balance as well as good grades in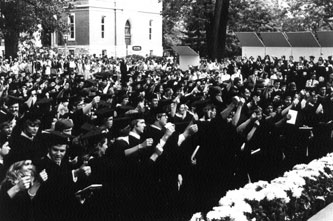 biophysics."
Olson, who also received an honorary degree today, added, "For those of you who have made the most of your enormous opportunities here at DePauw, you will find that the world you are entering -- despite the disposition of your elders to label it 'the real world' -- is really no more real than the world you have been inhabiting here. There is nothing in business that is more real than honest scholarship. Nor is there any better preparation for the real world of business than the real world of scholarship. Take with you to the marketplace a generous measure of care, compassion and concern for others on this earth. Work not for the quick deal or the fast buck but for the long pull for those generations who will follow you here and then follow you where you are going from here."
Honorary degrees were also awarded today to: John F. Cady '23,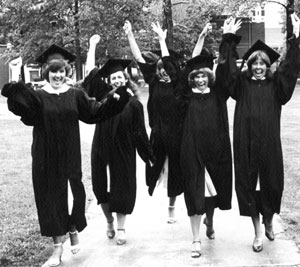 Guggenheim Fellow and authority on Asian history; Charles West '45, Guggenheim Fellow and head of the biochemistry division at UCLA; John W. Fisher, chairman of the board of Ball Corporation; and C. Norman Frees '36, president of Cumamex, S.A. and president and founder of Petrotex International.
B.A. degrees were conferred on 412 students today, 38 received B.S.N. degrees, 34 earned B. Mus. degrees, and 58 M.A.T. and M.A. degrees were awarded.
The Class of 1981 contributed $22,200 -- the largest-ever gift by a graduating class to DePauw -- to fund memorial scholarships.
Back