Trustees Committee Updates Work on Greek Fact-Finding Report
November 2, 2006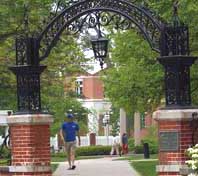 November 2, 2006, Greencastle, Ind. - The DePauw Board of Trustees' committee that is reviewing the findings of the Greek Fact-Finding Commission is today offering an update on its work.  The five member panel reports on the outcome of a recent meeting between Greek house corporation members, chapter advisers and University staff; how outside support has been procured to assist with the process and assist with walk-throughs of Greek housing; and the memo outlines plans for an Inclusive Trustee Retreat in January.
Two community conversations with President Robert G. Bottoms are now scheduled.  Faculty members are invited to discuss the Greek Fact-Finding process on Thursday, November 9 at 4:30 p.m. in the auditorium of the Richard E. Peeler Art Center.  The following Tuesday, November 14, students can interact with Dr. Bottoms at 7 p.m. in the ballroom of the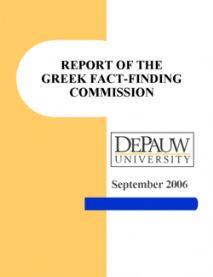 Memorial Student Union.
Access today's update, and learn more about the Greek Fact-Finding process, here.
The five members of the trustee committee are: R. Lee Wilson '76, Greenwich, CT (chair); Jonathan C. Coffin '06, Washington, D.C.; Alison E. Frost '69, Wilmington, DE; R. David Hoover '67, Broomfield, CO; and James G. Stewart '64, Bryn Mawr, PA.
The Greek Fact-Finding Commission was created in April by a vote of DePauw's Board of Trustees to "identify an impartial set of facts about DePauw's Greek system in the context of the important functions it provides and the constituencies it serves," according to the commission's charge. "The objective is to gather the most reliable information possible in an integrated framework which articulates impacts across the University."  The report was made public on September 29.  A series of conversations have taken place among various DePauw constituencies, including an October 9 webcast in which the commission's work was discussed.
Back