Newspaper Writes of 'Tigers of DePauw' On Campus for ArtsFest
November 2, 2006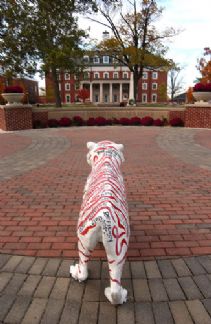 November 2, 2006, Greencastle, Ind. - "The tiger sculptures scattered around DePauw University are certainly burning bright as they represent different groups, organizations and individuals on campus," reports today's edition of Greencastle's Banner-Graphic. "According to Gigi Fenlon, coordinator of arts publicity and marketing, the primary purpose for the tigers was to heighten awareness of ArtsFest 2006: Art and the Silk Road. They were also to showcase the talents of the DePauw community."
The Tigers, scattered around the campus, each have a distinct look because "invited all members of the DePauw community to submit design proposals for 15 tigers. Thirty proposals were received by a committee of students representing all creative and performing arts departments and programs. The committee then narrowed it down to 15 groups, organizations and individuals who were awarded the sponsorship based on the merit of their proposals."
Amanda Roach writes, "These groups, organizations and individuals also had creative ways to decorate the tigers. For example, the student newspaper The DePauw decorated their 'First Amendment Tiger' by writing out questions that deal with the
First Amendment, while the Philosophy Club wrote out the big questions on the meaning of life for their 'Big Questions' tiger... The tiger sculptures, made out of concrete, were created by Stone and Steel, a local company owned by Jacob Stanley, a former DePauw art student" who graduated from the University in 2005.
The Tigers of DePauw will remain on display through the conclusion of ArtsFest this Sunday, November 5.
Access the article at the newspaper's Web site. You'll find information on ArsFest by clicking here.
Back