Four Student Journalists Enjoy "Unbelievable" Opportunity: A Plane Trip and Long Interview with Lee Hamilton '52
November 1, 2006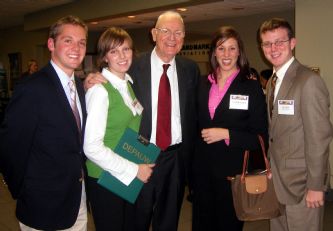 November 1, 2006, Greencastle, Ind. - "When Lee Hamilton '52 visited campus for DePauw Discourse 2006, he spoke with John McWethy '69 on the Meharry Hall stage in front of a large audience. For four students, however, the access was much more exclusive," writes Matt Welch in The DePauw. "Seniors Courtney Fischer and Ashley Baxstrom, editorial writer for The DePauw, and sophomores Matt Jennings and Scott Reasoner joined Hamilton on a private plane to Washington for a 90-minute private interview." They compiled reports for the student newspaper, as well as student radio station WGRE and the student-run television station, D3TV. (at top: the students are seen with Hamilton in Washington, D.C.)
""I had to do some research; I was not familiar with his 9/11 Commission or the Iraq Study Group. It was really a flash forward to what a journalist does, the life they lead," says Fischer, who reports for the TV operation. "Having this opportunity to be with such a public figurehead is unbelievable." Jennings adds, "The opportunity to discuss American and world politics with someone who is at
the center of all of those things doesn't arise very often. It was an experience I won't soon forget." Jennings adds that Hamilton told the students "it was the longest interview he's ever done, but that we did it well."
The opportunity was arranged by Steve Setchell '96, assistant to the vice president for development and alumni relations.
"All of this reflects Mr. Hamilton's significant generosity and loyalty to DePauw," Setchell tells The DePauw. "He was under no obligation to do any of this, having received no honorarium or other benefit for his Discourse participation. Not only is Mr. Hamilton 'a national treasure' in terms of his achievements and contributions in public service, as Discourse 2004 participant Roger Wilkins said, he's also a humble, accessible and kind person. I am sure his four student travel companions would agree."
Read the newspaper's story here, and access an account of Lee Hamilton's DePauw Discourse presentation, complete with photos and audio clips, by clicking here.
Back