This Year's Campaign Ads "Vile," Prof. Ken Bode Tells Indianapolis Star
November 4, 2006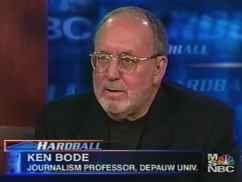 November 4, 2006, Greencastle, Ind. - An analysis of negative political campaign advertisements that have aired this fall, published on the front page of today's
Indianapolis Star
, quotes DePauw's Eugene S. Pulliam Distinguished Visiting Professor of Journalism. "'It's been vile,' said Ken Bode, a veteran political analyst who teaches at DePauw University in Greencastle. 'They're entirely negative.'"
The Star's Maureen Groppe adds, "Complaints about negative ads are nothing new. But analysts say the invective on the airwaves is particularly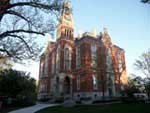 high this year as both parties battle for control of the U.S. House and possibly the Senate. Democrats need to gain 15 seats to take the House and six to take the Senate."
Read the story at the newspaper's Web site.
In an op-ed yesterday, Dr. Bode offered his assessment of Tuesday's elections and the comments made by Senator John Kerry. Learn more here.
Back