Ethics of Office Thanksgiving Party Prize Drawing Examined by Prof. Marcia McKelligan
November 5, 2006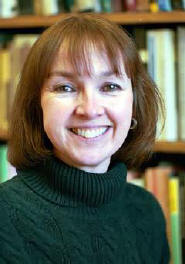 November 5, 2006, Greencastle, Ind. - Marcia McKelligan, professor of philosophy at DePauw University, tackles this week's "A Question of Ethics" in the Indianapolis Star. Dr. McKelligan is asked about a drawing for prizes at a company's Thanksgiving party where the names drawn as winners were highly compensated employees. The question atates, "instead of spreading good will, the employer's effort created resentment. Wouldn't it have been better to 'fix' the drawings so the neediest benefit?"
The professor's response, in part, suggests, "Your former co-workers should have realized that the outcome of the drawings was a matter of chance and that the next time there would be different winners, most of them probably from the mid- to low-wage range. Their resentment, although understandable and even predictable, is hardly justified. They were not injured or treated unfairly by their employer, and they shouldn't begrudge the winners their good fortune."
McKelligan continues, Nevertheless, your employer's plan to generate good will failed miserably, so it would be prudent to try something that doesn't pit the top-ranked against the rank-and-file. One alternative is to have drawings open to support staff but not managers. Another is to include
everyone but keep the prizes small. Another is to forgo the prizes altogether and host a festive meal for all employees, making sure the menu is the same for everyone.
Read the complete column at the newspaper's Web site.
DePauw is creating the Janet Prindle Institute for Ethics, which will be located in the University's Nature Park. Read more in this previous story.
Marcia McKelligan, along with professor of philosophy Bob Newton, coaches the teams that compete in the Ethics Bowl each year. In the spring, DePauw students advanced to the quarterfinals of the national competition. Learn more here.
Back