Science Fiction Studies, an International Journal Published at DePauw, Reaches 100th Issue
November 8, 2006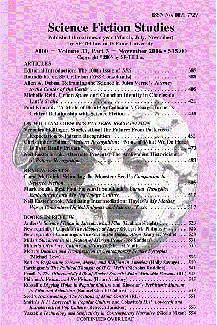 November 8, 2006, Greencastle, Ind. - Science Fiction Studies, the journal which is published at DePauw University, is celebrating a milestone: the journal's 100th issue has just been released. Founded in 1973, SFS provides a refereed, peer-reviewed forum for the scholarly analysis of all aspects of the genre of science fiction. Arthur B. Evans, professor of modern languages at DePauw, serves as the publication's managing editor. Istvan Csicsery-Ronay Jr., professor of English at DePauw, is a co-editor.
The journal publishes critical articles and book reviews only; it does not publish science fiction stories. SFS is very selective: its acceptance rate for articles averages around 37%. It is recognized as the most academic, the most theoretical, and the most international journal in its field and has nearly 900 subscribers (two-thirds institutional -- mostly university libraries -- and one third individual) in over two dozen countries, from Canada to China, Hungary to Hong Kong, Ireland to India, and Norway to New Zealand.
"SFS has probably published more good, substantial articles on science fiction than any of its competitors," stated Peter Nicholls, co-editor of the authoritative Encyclopedia
of Science Fiction. He says the publication is "especially strong on European science fiction, on debate about the nature of the genre, on utopias, on feminism, and on postmodernism."
In a 1994 Chronicle of Higher Education article ("Daring Journal of SF Theory," June 1, 1994), Jim Zook noted, "Since its founding... Science Fiction Studies has charted the course for the most hard-core science fiction critics and comparatists. That focus has earned the journal its reputation as the most theoretical scholarly publication in the field, as well as the most daring."
Professor Evans (seen below) says, "I think that probably the greatest influence that SFS has had on the field of literary studies over the past 30+ years is that it helped to move the genre of science fiction (and its criticism)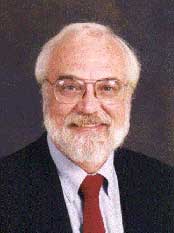 more into the cultural mainstream. Up until the mid-1970s, there were very few courses on science fiction offered in colleges and universities; today they are commonplace. The accepted 'canons' in both literature and cinema now include a host of science-fiction works -- from Jules Verne's voyages extraordinaires to William Gibson's cyberpunk to cutting-edge films such as Blade Runner and GATTACA."
The managing editor -- who has been called America's "Most Prominent Jules Verne Scholar" by Forbes magazine -- continues, "Then again, I suppose that one could argue that our very society of today has become highly science-fictional -- a 'technoculture' built upon electronics, simulacra, and evolving postmodernist values -- and that it should not be surprising that this speculative genre, once considered to be 'far out there,' is now more often viewed as 'here and now.'"
In 2003, Paul Kincaid of the British Times Literary Supplement, wrote of the world's three principal learned journals that focus on science fiction (SFS, Extrapolation [published at the University of Texas, Brownsville], and Foundation [published at the University of Liverpool in England]). "Science Fiction Studies (published at DePauw University, Indiana) has always been resolutely academic, the articles always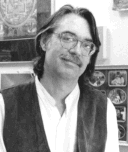 peer-reviewed (a practice that Foundation is only now beginning), and with an uncompromising approach to the complexities of critical theory." Kincaid added, "It has also tended to look mostly at the canonical figures of science fiction, and at the genre's past (an article in the March 2002 issue on Gustave Le Rouge, a French writer roughly contemporary with H.G. Wells, is typical of this approach, though this and the fact that the entire November 2002 issue is devoted to Japanese science fiction are also indicative that the journal casts its net far wider than its fellows)."
A registered not-for-profit corporation, SFS was started at Indiana State University by R. Dale Mullen, who was a professor of English literature there. In 1979, the journal's base moved to McGill University and then to Concordia University in Montreal, Canada. In 1990, after losing a Canadian humanities grant that had been supporting its operation in Montreal, the journal was looking for a new home. Professors Evans and Csicsery-Ronay (seen above right), both of whom had published in the journal, began negotiations with Fred Silander, then a DePauw vice president, to bring it to Greencastle. Mullen, who by then had retired from ISU, agreed to serve as managing editor once again. And Veronica Hollinger of Trent University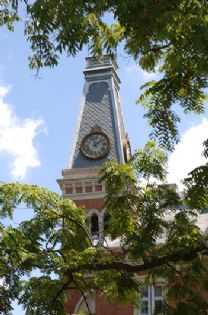 in Peterborough, Ontario, Canada -- a leading feminist critic of science fiction -- joined the journal's editorial team. When Dale Mullen passed away in 1998, Art Evans assumed the responsibilities of managing editor.
In addition to Evans, Csicsery-Ronay and Hollinger, SFS' editorial board includes Rob Latham (University of Iowa), Carol McGuirk (Florida Atlantic University) and Joan Gordon (Nassau Community College). The publication's list of editorial consultants is extensive and includes experts in the science fiction field from around the world.
"I think that you can get a pretty good idea of the future trajectory of SFS by reading some of the short essays in the 'Editorial Introduction' and the 'Roundtable on Science Fiction Criticism' in the November 2006 issue," Evans states. "We hope to continue doing what we do best -- to provide a venue for scholarly criticism on science fiction that is historical, international, and theoretical. Ultimately, perhaps, our work can help (in a small way) to construct a culture where rationality, open-mindedness, and a sense of human solidarity become the touchstones for our future."
Science Fiction Studies is published three times a year (March, July, November) by SF-TH Inc. at DePauw University. Visit the journal online by clicking here.
Back