Juan Carlos Davila '82 Appointed Senior VP at Telscape Communications
November 8, 2006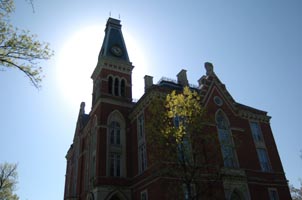 November 8, 2006, Greencastle, Ind. - Juan Carlos Davila, a 1982 graduate of DePauw University, has been appointed senior vice president of marketing & sales at Telscape Communications. Telscape is the premier competitive telecommunications provider to Hispanic households.
An announcement at Business Wire states, "Davila comes with a strong track record of achievement in the Hispanic market having developed and implemented numerous successful campaigns and strategic initiatives. Prior to joining Telscape Communications, Mr. Davila held senior positions at Bristol-Myers Squibb/Mead Johnson Nutritionals, the Quaker Oats Company and Procter & Gamble."
"We are very excited to have Juan Carlos Davila join the team," says Telscape's president and CEO, Ruben Garcia. "He will fill a critical role in the business and will be a key player in the continued expansion of Telscape's service to the Hispanic consumer. He has extensive experience in marketing, sales, and strategy and will lead the re-positioning of the Telscape brand for future growth."
The text adds, "Davila has a M.B.A. from the University of Chicago and his undergraduate degree from DePauw University," where he majored in psychology.
Read more at Forbes.com.
Back