Crawfordsville Paper Previews Saturday's Battle for the Bell
November 7, 2006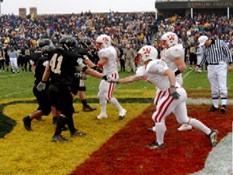 November 7, 2006, Greencastle, Ind. - "The Little Giant defense gets another test Saturday," notes the Crawfordsville Journal-Review in a preview of Saturday's 113th Monon Bell Classic. Matt Wilson writes, "Wabash will have to contend with DePauw (junior) running back Jeremiah Marks, who went over the 1,000-yard plateau for the season after rushing for 67 yards in Saturday's 24-14 win over Austin. Marks rushed for more than 100 yards four times this season and enters Saturday with 197 carries for 1,023 yards and 12 touchdowns. Marks was limited to 19 carries for 31 yards
in last year's 17-14 loss to Wabash at Blackstock Stadium."
Access the column here, and click on this story to get details on tickets, the national telecast on HDNet, alumni parties that are scheduled in 53 cities on game day. You'll also find information on the 2006 Monon Bell DVD, which will include the entire game and a heap of bonus features, including "Monon Memories" of past games, dating back to 1932, when the Bell was introduced to the rivalry (the cover of the 2005 DVD is seen at right).
Visit DePauw's Monon Bell Web site by clicking here.
Back