New Speaker Nancy Pelosi's Role in Iraq Debate "Well-Earned," Opines Prof. Ken Bode
November 10, 2006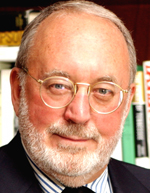 November 10, 2006, Greencastle, Ind. - "When Congress convenes in January, a new phrase will enter the nation's political lexicon: Madam Speaker," begins Ken Bode's column in today's Indianapolis Star. "Nancy Pelosi of San Francisco, the most demonized Democrat of this most nasty mid-term election, ascends to the most important office of the opposition party. Speaker of the House of Representatives. Third in line to the presidency. The highest-ranking woman in elective office in American history. As the father of daughters, I like it," remarks DePauw's Eugene S. Pulliam Distinguished Visiting Professor of Journalism.
"Americans will be forgiven if they have a less than flattering view of the incoming Democratic leader," continues Dr. Bode. "During the campaign, mailboxes all over the country filled-up with Republican fliers, designed in Washington, advertising the fearful prospect of Pelosi as Speaker. Roy Blount, the GOP majority whip, ran a Web site calling the prospect of her speakership 'just plain scary.'"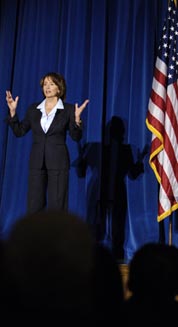 Pelosi "comes with strong political genes," Bode asserts. "Tuesday's results added a number of new, socially conservative members to Democratic ranks, raising questions of what this means for Pelosi's leadership. But her record on that is clear. Pelosi has led from the center of her caucus, not the left. Using rewards and strong discipline, she has achieved a striking 88 percent record of Democrats voting along party lines, the most unified caucus in 50 years... Among other things, that meant that Pelosi was able to block Bush's plan to privatize Social Security, arguing that his plan would cost seniors but benefit Wall Street."
The new House Speaker's domestic agenda will include issues such as raising the minimum wage and making college tuition tax deductible, Bode writes. He adds, "Nancy Pelosi knows that the election that led to her speakership was essentially a referendum on the war in Iraq and the leadership of President Bush. During the campaign, the Democrats had no unified position on Iraq, though Pelosi herself promised to work for a phased withdrawal of troops to be completed by the end of 2007."
In conclusion, the professor states, "There may now be a real opportunity for a change of course on Iraq. A chastened Bush has acknowledged a 'thumpin' ' at the polls and removed Donald Rumsfeld from the Pentagon. In a few days, recommendations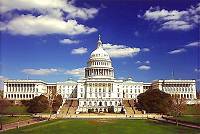 from the Jim Baker-Lee Hamilton Iraq Study Group will be made public. Their report was scrupulously kept under wraps during the campaign, thus did not become a partisan political football. As the voice of the new House majority, Madam Speaker will have a well-earned role in the debate over what happens next in Iraq."
Read the column in its entirety at College News.org.
Last Friday, Ken Bode offered his assessment of John Kerry's statement about education and the war. Access it here.
Back