Newspapers Preview "One of the Most Storied Rivalries in College Sports"
November 11, 2006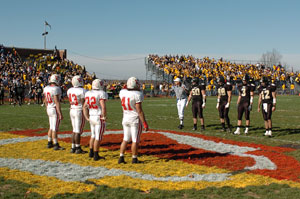 November 11, 2006, Greencastle, Ind. - "The game between Wabash (7-2) and DePauw (6-3) is one of the most storied rivalries in college sports, having been chronicled by Sports Illustrated and others," writes Jeff Rabjohns in today's Indianapolis Star. "The 113th meeting kicks off at 1 p.m. at Wabash, which leads 52-51-9."
Tickets are still available for today's game, which will be played in Crawfordsville. The contest will be televised nationally on HDNet.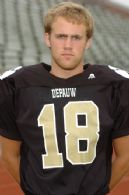 "Spud Dick knows he has only an idea of what to expect," begins the Star article. "This afternoon, he'll be the starting quarterback for DePauw in the Monon Bell Classic. As a freshman. 'When I first got here, I knew it was a big game, but as time goes on and the season goes on, it gets even bigger,' said Dick, a Lawrence Central graduate who needs 8 yards to become the second Tigers player ever to throw for 1,000 yards as a freshman. 'Coach (Matt Walker) has been showing us 'Monon Memories' and stuff. The guys on the team try to describe it, but they're almost at a loss for words. They say you don't understand it until you play in it.'"
The story points out, "In a recent ESPN.com survey, it was voted a bigger rivalry in Indiana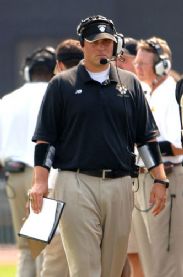 than Indiana University and Purdue basketball. The 300-pound Bell, added to the series in 1932 is so coveted it has been stolen at least eight times."
Rabjohns notes, "Walker is in his first season as DePauw's head coach but he's no stranger to the Bell game. He played in it and was an assistant coach and he attended Bell games with his father, Dick Walker, a 1968 DePauw graduate who played tight end. Walker grew up in Crawfordsville, home of Wabash." The coach, who graduated from DePauw in 1999, tells the newspaper of the battle for the Bell, "You don't want them to go in with any false ideas. It is going to be different, especially at the quarterback position... I told him to enjoy it. You only get four cracks at this. You get beat up playing college football, but you want to play in the Monon Bell game a million times if you could."
Read the complete story by clicking here.
For fans watching the game on HDNet in their homes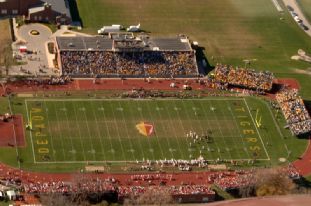 and at alumni telecast parties across the nation, "Kenny Rice, who has worked with ESPN and NBC, will handle the play-by-play duties," notes the Crawfordsville Journal Review. "DePauw three-year letterwinner Rob Doyle ['82] will be the color commentator" along with Joe Emmick of Wabash. "Kandace Krueger, Miss USA 2001, will be the sideline reporter." Four radio stations will carry the contest, including DePauw's student outlet, WGRE, and Indianapolis ESPN affiliate, WLXI-AM.
Read more in the Journal Review here and here. The Paper of Montgomery County has a series of stories, including a game preview, a profile of Matt Walker, a behind the scenes look at preparations, and a summary of the rivalry's most storied games. The latter reports, "23 of the last 41 games have been decided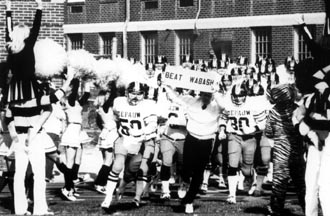 by eight or less points. And three of the past six years, the game hasn't been decided until the final quarter -- or play."
The Monon Bell Classic will again be the subject of a commemorative DVD. The disc will contain every play of the contest, plus a treasure trove of historic and special features. Read more about the disc, which will contain a number of "Monon Memories" of past games, here.
Access DePauw's Monon Bell Web page here. Check this site later today for comprehensive coverage of today's game, including video clips.
Back