"Mature, Winning" Brad Brownell '91 & Wright State Open Basketball Season Today
November 11, 2006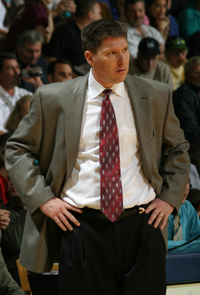 November 11, 2006, Greencastle, Ind. - "The experience I had at DePauw was fantastic," says Brad Brownell '91, head men's basketball coach at Wright State University. "My junior year (1990), we played for the D-III national championship over at Wittenberg." Brownell, whose team opens its season today, is profiled in Ohio's
Dayton Daily New
in a story headlined, "Brownell brings mature, winning outlook to Wright State."
Royce Waltman, head coach at Indiana State University who led DePauw's progam when Brownell was an undergraduate, recalls, "He just anticipated what was going to happen out there. He's got a knack for understanding the game. I've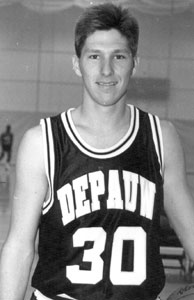 been coaching 40 years, but Brad seems a lot older than me. He always had a maturity to him that was past the rest of the people, whether he was a grad assistant or a player."
Jim Crews, Army's head coach, had Brownell as a graduate assistant when he led Evansville's hoops program. Jim Crews felt the same way after hiring Brownell as a graduate assistant at Evansville in 1991. "He had a great understanding of the game. He knew what players had to do to maximize their talent, and be able to put them together and be part of a team. He was born mature. He was more mature than his age."
Brownell comes to Wright State from North Carolina-Wilmington, where he compiled an 83-40 record over four seasons, including two appearances in the NCAA tournament.
Read the complete story at the newspaper's Web site.
Back