USA is "Hungering for Leaders Like" Lee Hamilton '52, Opines New York Times Columnist
November 12, 2006
Also: Video of Lee Hamilton's "DePauw Discourse" Session
November 12, 2006, Greencastle, Ind. - Analyzing last week's midterm elections in the New York Times, op-ed columnist David Brooks writes, "Realignments are achieved by parties that define big new approaches to problems, and neither party has done that yet. In the meantime, if I were a Democrat I'd be like Lee Hamilton, the former Indiana congressman and serial commission member." Brooks notes that "voters kicked out Republicans but did not swing to the left. For the most part they exchanged moderate Republicans for conservative Democrats."
Lee Hamilton is a 1952 graduate of DePauw University who served 34 years in the United States House of Representatives and co-chairs the Iraq Study Group. He also served as vice chair of the 9/11 Commission.
"The country is hungering for leaders like him: open-minded, unassuming centrists who are interested in government more than politics," declares Brooks.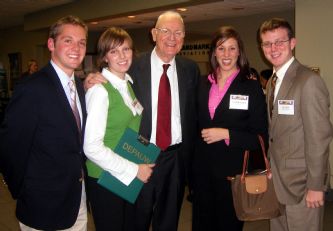 "If the Democrats are smart, this could be the beginning of a new Hamiltonian age."
Read the complete column by clicking here.
Lee Hamilton returned to his alma mater to discuss the war in Iraq and other current events October 26 in a DePauw Discourse 2006 session. Read a summary of the event, which includes audio clips, in this previous story. An extended video clip can be accessed here. (at right: Hamilton with four DePauw student journalists who accompanied and interviewed him on his flight from Indiana to Washington, D.C.)
Back