DePauw Percussion Ensemble Presents Friday Preview of Program it Will Perform in Europe
November 14, 2006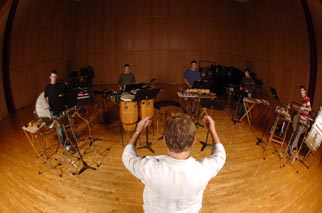 November 14, 2006, Greencastle, Ind. - The DePauw Percussion Ensemble will present a concert of works by American composers on Friday, November 17 at 7:30 p.m. in Kresge Auditorium. The ensemble, which will tour central Europe in January, will represent the United States with this program at the International Percussion Ensemble Festival in Bjelovar, Croatia. The concert is free and open to the public, and the audience is invited to sit on stage during the performance.
The program will include "classics" of the percussion ensemble repertoire, as well as very recent works andan arrangement of a jazz standard.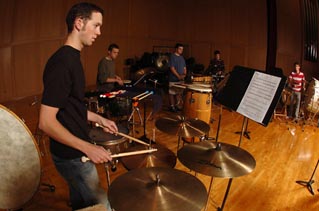 Highlights include the voodoo-evoking themes of Christopher Rouse's Ogoun Badagris, and the delicate and unusual colors and complex rhythms of John Cage's Third Construction. Also unique to the program is Jennifer Hidgon's Splendid Wood. Written for six players on three marimbas, it is the newest piece on the program and was commissioned by the New England Conservatory Percussion Ensemble.
As part of its January tour, the DePauw Percussion Ensemble will also perform in Slovenia, Austria, the Czech Republic and Germany. The group will be featured in concerts and workshops on each leg of the tour, and the student musicians will also visit sites of historical, cultural, and musical importance.
"I lived in central Europe for over 12 years, so it is a great joy for me to be able to bring my DePauw students to perform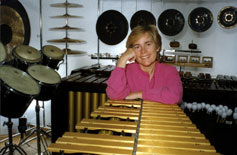 in some of my favorite places," says Professor Barber. "The students have been working very intensely on this program all semester, and I think they will have an incredible experience performing on this tour."
Founded in 1884, the DePauw University School of Music is one of the oldest in the nation and has an established tradition of educating leaders in virtually every facet of music, including performers, educators, composers and administrators. For additional information, click here or call (765) 658-4380.
Back