Boston Globe Story on Groundbreaking for Dr. King Memorial Quotes Prof. John Dittmer
November 14, 2006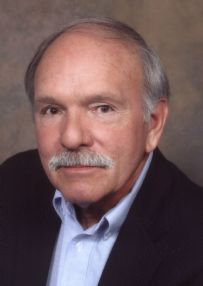 November 14, 2006, Greencastle, Ind. - "It is an honor for the movement itself as well as King," John Dittmer, professor emeritus of history at DePauw University, tells the Boston Globe of yesterday's groundbreaking for a monument to the Rev. Martin Luther King Jr. on the National Mall. Dittmer says, without the efforts of everyone who came together for the civil rights movement, "there wouldn't be any monument to Martin Luther King and we would never have heard of him. He himself would have said that. The movement made King -- King did not make the movement."
The article by Bryan Bender, published in today's edition, also notes that Dr. Dittmer is the author of Local People: The Struggle for Civil Rights in Mississippi.
Monday's ceremony was attended by President George W. Bush and former President Clinton "and a host of celebrities and veterans of the civil rights movement broke ground for a monument to King on the National Mall -- the first such honor for an African-American."
Bender reports, "The memorial's location -- between the Jefferson and Lincoln memorials -- 'will unite the men who declared the promise of America and defended the promise of America with the man who redeemed the promise of America,' Bush said... The memorial also salutes the thousands of men and women who braved intimidation, violence and even death to demand racial and economic equality in the United States during the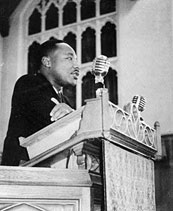 1950s and '60s. And like the Vietnam Veterans' Memorial erected 24 years ago, the King site will sanctify the civil rights movement in the nation's annals, historians and veterans of the movement said Monday." (at right: Dr. King speaking at Gobin United Methodist Church on the DePauw campus, September 5, 1960)
Read the complete story by clicking here.
John Dittmer was cited in a September New York Times story and recently received a 2006 Indiana Humanities Award for his service in helping to advance and strengthen American culture. This spring, the television documentary 10 Days That Unexpectedly Changed America: Freedom Summer, which aired on the History Channel, included analysis from Professor Dittmer.
Back