Indianapolis Star Notes Mitch Albom's Ubben Lecture at DePauw
November 16, 2006
Also: "Grab the Opportunities That We Have Now," Bestselling Author Mitch Albom Urges Audience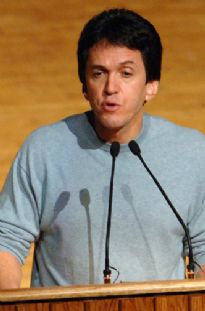 November 16, 2006, Greencastle, Ind. - "Detroit Free Press sportswriter Mitch Albom didn't expect the success that came with his book, Tuesdays with Morrie. 'It still seems like it happened to somebody else,' he told an audience at DePauw University earlier this week," notes today's "Just 1 Minute" column in the Indianapolis Star.
Monday night, Albom delivered the Timothy and Sharon Ubben Lecture to a large and enthusiastic crowd in Kresge Auditorium. He discussed how Morrie came to be, as well as the novels that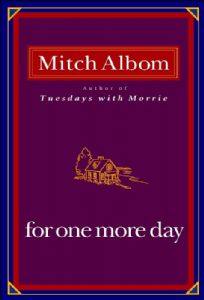 followed, The Five People You Meet in Heaven, and the new bestseller, For One More Day.
After Morrie's huge success, the Star writes, "Repeated requests from publishers for sequels created a new problem, (Albom) said. 'Now all the same publishers who wanted nothing to do with Tuesdays with Morrie only wanted 'Wednesdays with Morrie' or 'Chicken Soup Meets Morrie' or, maybe, 'Venus and Mars Meet Morrie' or, my favorite, 'Things I Just Remembered Morrie Told Me But I Forgot to Put in the First Book,' Albom joked."
A summary of Monday's Ubben Lecture is posted at the Star's Web site.
A longer story, which includes video and audio clips, can be accessed here.
Back