US Attorney Here for November 30 Event Marking National Methamphetamine Awareness Day
November 25, 2006
November 25, 2006, Greencastle, Ind. - Susan W. Brooks, United States Attorney for Indiana's Southern District, will come to the campus of DePauw University on Thursday, November 30, to oversee a program for state, local and community leaders marking National Methamphetamine Awareness Day (NMAD). The Department of Justice has designated November 30 as a day to generate awareness about the damaging effects of meth abuse on individuals, families and American communities. The program will take place at 1 p.m. in the ballroom of the Memorial Student Union Building. The public is invited and encouraged to attend.
Education and public outreach are at the heart of the national drug control strategy, and National Methamphetamine Awareness Day will play an important role in highlighting the nationwide efforts to increase awareness and decrease demand of this highly addictive and dangerous drug. The Greencastle event, while one of a number of events to be held across the state
November 30, will be the primary session and the only one to include the participation of U.S. Attorney Brooks.
Indiana agencies that will be involved at the DePauw event include: the Indiana Criminal Justice Institute, the Office of Governor Mitch Daniels, Meth Free Indiana Coaltion, the University's Office of Public Safety, the Governor's Commission for a Drug Free Indiana, Putnam County Sheriff's Department and Sheriff Mark Frisbie '92 (seen below left), the City of Greencastle, and local coordinating councils from across the state.
As part of National Methamphetamine Awareness Day, Attorney General Alberto R. Gonzales will host a national event with federal, state, local and community leaders to discuss the broader impact that meth production and use is having on our communities.
National Methamphetamine Awareness Day is a coordinated effort not only to reach potential meth users with a message of prevention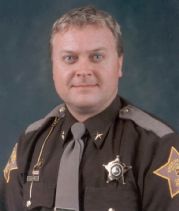 , but also to educate current users about the programs available to them. In order to increase the impact of this message, the Department is partnering with a number of federal, state and local governments, as well as with private sector and non-profit entities, including: the U.S. Department of Labor; U.S. Department of Health and Human Services; U.S. Department of Interior; Office of National Drug Control Policy; the Drug Enforcement Administration; the Partnership for a Drug-Free America; Boys & Girls Clubs of America; Community Anti-Drug Coalitions of America; Fraternal Order of Police; National District Attorneys Association; National Association of Attorneys General; Inter-Association Task Force on Alcohol and Other Substance Abuse Issues; American Council on Education; National Association of Student Personnel Administrators; American College Health Association; Association of Fraternity Advisors; and the National Panhellenic Conference.
For more information about National Methamphetamine Awareness Day and how to get involved in your community, click here or contact the U.S. Department of Justice Office of Public Affairs at (202) 514-2007.
Back