Lee Hamilton '52 Sends "Pretty Clear Signals" of Iraq Study Group's Recommendations: Prof. Ken Bode
November 17, 2006
Also: Lee Hamilton's DePauw Discourse Presentation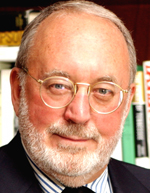 November 17, 2006, Greencastle, Ind. - "Lee Hamilton is not a politician likely to leak, so during a visit to DePauw University recently he made it clear that there were some questions he would have to deflect," writes Ken Bode in today's Indianapolis Star. DePauw's Eugene S. Pulliam Distinguished Visiting Professor of Journalism uses his weekly op-ed to examine comments made by Hamilton, co-chair of the Iraq Study Group and 1952 graduate of DePauw, on October 26 at DePauw Discourse 2006.
"Hamilton sat for an hourlong Q and A moderated by Jack McWethy ['69] of ABC News. He scrupulously honored 'the borders,' but Hamilton said enough on the record to give some pretty clear signals about what the study group will be recommending to the president," Bode states.
"First, the administration will be urged to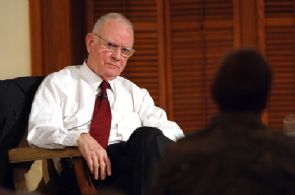 drop its habit of isolating regimes it doesn't like, particularly Iran and Syria in the Middle East. 'I don't know how you solve problems without talking to people,' Hamilton said... Additionally, look for the study group to encourage diplomatic initiatives to engage the rest of the world to help solve Iraq. Hamilton: 'Our mandate is to figure out how to involve the region, the permanent five members of the U.N. Security Council, the European Union, Japan. One of our frustrations in dealing with Iraq is that the international community has been passive. They say, 'OK, America, you started the war, you clean it up.' We have to change that perception and invite them into a process that gives international backing to what we're trying to do.'"
Bode, a longtime network correspondent for CNN and NBC adds, "One area where the recommendations
of the Iraq Study Group may run into resistance from Bush himself is in Hamilton's answer to the last question from the audience at DePauw. 'Do we have to rethink our relations with the state of Israel? That issue is at the top of the Arab agenda.' Essentially, Hamilton said yes, the strongest criticism of America is its pro-Israel stance. 'In the Middle East, everything is connected to everything else, and at the core is the Israeli-Palestinian question. It's terribly important for the U.S. to deal with every aspect of this, refugees, borders, Jerusalem. The U.S. has to get seriously involved in the Middle East beyond Iraq. We have to adjust our relations with Israel to move the process. This does not mean we'll change our close relations with Israel, but we do have to adjust our relations.'"
Bode concludes that Hamilton's comments at DePauw "are a preview from the co-chairman of the Iraq Study
Group, which will soon report its efforts to find a middle way between 'cut and run' and 'stay the course.'"
Read the column in its entirety at College News.org.
Access a summary of Lee Hamilton's appearance at DePauw Discourse 2006: Issues for America -- including video and audio clips -- here.
Last Friday, Ken Bode's column dealt with Nancy Pelosi. Access it here.
Source: Indianapolis Star
Back