TV Report on Anti-War Demonstration Quotes Prof. Emeritus John Dittmer
November 18, 2006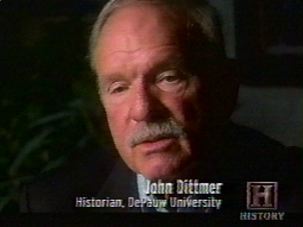 November 18, 2006, Greencastle, Ind. - A story by Indianapolis NBC affiliate WTHR on an anti-war protest in Greencastle quotes an emeritus professor of history at DePauw University. "John Dittmer says its important for the country to back the soldiers," reports the station's Roger Harvey. His story points out, "The demonstration comes at a time when President Bush is in Vietnam. The demonstrators say they see similarities between what happened in Vietnam and what is now taking place in Iraq."
Dr. Dittmer tells the station, "One of the things we learned from Vietnam is some wars are not

winnable and we are in one right now. It was a mistake and people realize that now but there's some disagreement about how we get out."
Read more at the television station's Web site.
A nationally recognized expert on the civil rights movement, Professor Dittmer was quoted in a Tuesday Boston Globe story on the groundbreaking for a monument to the Rev. Martin Luther King Jr. on the National Mall. Learn more by clicking here.
Back