Hertel leads Tigers' all-SCAC honorees
November 20, 2006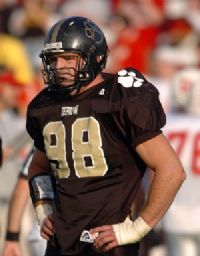 November 20, 2006, Greencastle, Ind. - Senior defensive end Dustin Hertel (pictured right) was named the Southern Collegiate Athletic Conference Football Defensive Player of the Year and was among 15 DePauw players to earn all-SCAC honors.
Hertel, an
Aztec Bowl invitee
, led the 6-4 Tigers and the SCAC with a conference-record 27.5 tackles for losses totaling 155 yards, a school-record and conference record-tying 16 sacks and five forced fumbles. He was second on the team with 85 total tackles, recovered three fumbles and intercepted a pass that he returned for a touchdown. Hertel was a first team selection in 2004 and a second team choice last year and is the first DePauw player to earn Defensive Player of the Year honors in the Tigers' nine years of SCAC play.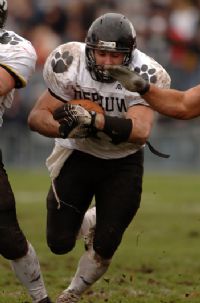 Junior running back Jeremiah Marks (pictured left) earned a first team spot for the third straight year after setting a school record with 1,117 rushing yards. Junior left guard Kerry Pappas earned a first team spot for the second straight season, while placekicker Tyler Mallory was a first team choice for the first time. Senior free safety Greg Sylvester rounded out DePauw's first team choices after earning first team honors in 2004 and second team last year. Sophomore center Ian Yearwood was the lone Tiger on the second team offense, while senior end Luis Davila, sophomore tackle Michael McNelis, senior linebacker Eric Lewis and junior cornerback Jevon Pruitt earned spots on the second team defense. Lewis was a first team choice in 2004 and honorable mention last year. Five Tigers earned honorable mention including seniors Brendan Berigan, Alex Boucher, Andy Brandstatter, Rob Farrow and freshman Bryan Mulligan.
Back