Senior Dustin Hertel Invited to Play in Aztec Bowl; One of 15 Tigers to Earn All-SCAC Honors
November 20, 2006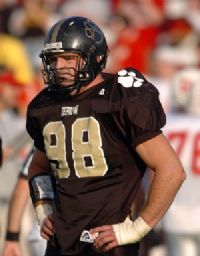 November 20, 2006, Greencastle, Ind. - DePauw University senior Dustin Hertel has been selected by the American Football Coaches Association to play on the Division III football all-star team that will travel to Mexico to play in the 2006 Aztec Bowl next month. Hertel, a defensive end, will play on the American team that will battle a squad of Mexico's top college players. The game will take place December 16 in Aguascalientes, Mexico.
Hertel led the Tigers and the Southern Collegiate Athletic Conference with an SCAC-record 27.5 tackles for losses totaling 155 yards, a school-record 16 sacks and five forced fumbles. He becomes the fourth DePauw player to earn an invitation in the ten year history of the Aztec Bowl. Previous Tiger participants have been Tyler Kelley (1999), Jamarcus Shephard (2004) and Chase Jonason (2005).
Dustin Hertel has also been named the SCAC Football Defensive Player of the Year and was among 15 DePauw players to earn all-SCAC honors. Besides Hertel, first team selections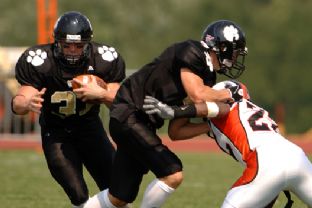 include junior running back Jeremiah Marks (seen at right), junior left guard Kerry Pappas, senior placekicker Tyler Mallory, and senior free safety Greg Sylvester.
Read more at the football team's Web page.
For coverage of the 113th Monon Bell Classic -- including video clips -- click here. The DVD of the game is now being produced and will include a number of historical features, including "Monon Memories" of past games and the Ballad of the Monon Bell music video. Learn more here.
Back