Prof. Ken Bode Discusses "Electability" of Evan Bayh with Newspaper
November 21, 2006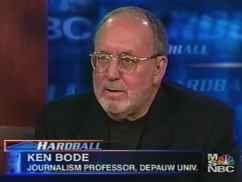 November 21, 2006, Greencastle, Ind. - An article examining the presidential aspirations of U.S. Senator Evan Bayh (D-Indiana) offers analysis from "Ken Bode, the former host of PBS' Washington Week who is on staff at DePauw University and has worked inside the Beltway for NBC News." The recent story in Logansport, Indiana's Pharos-Tribune discusses, among other things, how Virginia Governor Mark Warner's decision last month not to run for the presidency could affect the senator from Indiana.
"That's definitely helped Bayh," Bode tells the newspaper. "Warner and Bayh were kind of cloned candidates. Bayh has
more experience than Warner, but also a record. I don't think Warner was ever going to be as strong a candidate. The East Coast was flirting with him. They knew him better than anybody else. He's bright. He's articulate. He's just got a very thin resume. A governor with one term -- that's tough."
The professor adds, "Bayh's strength, if he emerges, is his electability. He comes from the states that really are the toss-up states. The Democrats aren't going to carry the South. They can't even come up with a candidate who carries his own state. He will get another look from the people who are interested in Warner."
Read the complete story by clicking here.
Ken Bode writes a weekly op-ed for the Indianapolis Star. You'll find his most recent column here.
Evan Bayh delivered the commencement address at DePauw University on May 21, 2006. Access an article that includes video and audio clips of the speech here.
Back