"Wise Man" Lee Hamilton '52 is Subject of Chicago Tribune Profile
November 27, 2006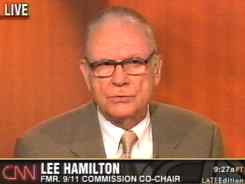 November 27, 2006, Greencastle, Ind. - The Chicago Tribune labels Lee Hamilton, a 1952 graduate of DePauw University, one of America's "wise men... a storied but shrinking club trusted for the soundness of their advice and judgment, not for the favor that can be returned." Mike Dorning continues, "'Wise Men' are summoned at moments of national crisis, brought in precisely because of their ability to rise above partisan conflict in moments like the Sept. 11 attacks and, now, the Iraq war. In both crises, official Washington turned to the same quietly resolute Midwesterner to make sense of it all: Lee Hamilton, a 75-year-old former Indiana Democratic congressman with a '50s-era brush cut and a clear-eyed appreciation for the hard realities of foreign policy."
The front page story continues, "Along with Republican James Baker, former secretary of state and Bush family confidant, Hamilton will convene the Iraq Study Group, a commission of 10
prominent Democrats and Republicans on Monday and Tuesday to prepare recommendations for President Bush on U.S. strategy in Iraq." Vernon Jordan, a former adviser to President Clinton and 1957 graduate of DePauw, is also serving on the panel.
"We have not reached agreement at this stage," Hamilton tells the newspaper. "We're working very hard to get a consensus view. That's not guaranteed at this point."
Dorning declares, "In an era of politics dominated by partisan warriors, Hamilton commands respect across party lines. And at a time when retiring members of Congress routinely rush out the door to lobbying firms where they can sell their influence to the highest bidder, he passed up the chance for big money and retains unquestioned independence. Instead, Hamilton is living out the final years of his public life as director of an academic-oriented think tank, the Woodrow Wilson International Center for Scholars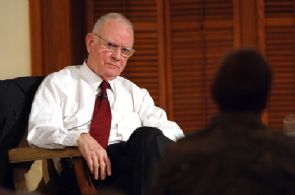 affiliated with the Smithsonian Institution. He lives in the same suburban four-bedroom colonial in Alexandria, Va., where he and his wife raised their children."
A veteran of 34 years in Congress, Hamilton "is nothing if not a serious persona, with an academic bearing, lanky body and perpetually sincere mien, the embodiment of the Wise Man model," the writer states. "As a youth, Lee Hamilton was a star athlete who played basketball for DePauw University in Indiana and later was inducted into the Indiana Basketball Hall of Fame. After graduating college in 1952, he studied abroad for a year at the Goethe Institute in postwar Germany. He attended law school at Indiana University and worked briefly at a Chicago law firm before choosing the life of a small-town lawyer in Columbus, Ind. He was first elected to Congress in the 1964 Johnson landslide over Barry Goldwater." The lengthy story examines Hamilton's career and his "reputation for independence."
Tom Kean, the Republican who co-chaired the 9/11 Commission with Hamilton, says the "wise men" designation fits. "Lee Hamilton is one of the few of them left. If you
could name five or six of them now it would be a lot. You used to be able to name 20 or 30," added Kean, the former governor of New Jersey.
Adds U.S. Rep. James Leach (R-Iowa), "Lee was one of the most respected members of Congress, and his level of respect has escalated in his post-congressional service. He brings a common-sense Midwestern perspective firmly rooted in a non-ideological realism."
Access the complete story by clicking here.
Lee Hamilton was on the DePauw campus last month to discuss the Iraq war and other matters at DePauw Discourse 2006: Issues for America. Access a story -- including video and audio clips -- here. Professor Ken Bode discussed that event in a recent op-ed in the Indianapolis Star, which you can read about in this previous article.
Back