Tigers capture Amy Hasbrook Tournament title
November 26, 2006
Rose-Hulman-St. Elizabeth Box | DePauw-Denison Box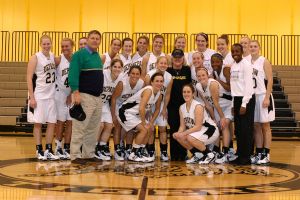 November 26, 2006, Greencastle, Ind. - Host DePauw fought off several Denison second-half runs and captured the Amy Hasbrook Memorial Tournament title with a 73-64 victory over the Big Red. DePauw, ranked third by D3hoops.com and fifth in the latest USA Today/ESPN Coaches' Poll, improved to 4-1, while Denison dropped to 3-2.
DePauw trailed 22-20 late in the first half, but Caitlin McGonigal scored eight straight points in a 1:25 stretch and gave the Tigers the lead for good.
The Tigers scored the first eight points of the second half to take their biggest lead of the contest at 37-25, but the Big Red closed to within two with a 14-4 run. DePauw eventually pushed the lead back to double digits before Denison scored seven straight to close the gap to 56-53 with just over seven minutes left.
Emily Marshall scored the Tigers' next six points and pushed the lead to 62-54 with 3:44 left. Cassie Pruzin buried a three-pointer with 2:37 left to make it 67-57 and the Tigers hit all six of their free throws down the stretch to seal the win.
DePauw shot 48.2 percent for the game including 60 percent in the second half, while Denison connected on 43.3 percent from the floor. The Tigers outrebounded the Big Red 41-28 and knocked down 15 of 19 free throws in the win.
McGonigal paced the Tigers with 14 points followed by Liz Bondi and Jenna Fernandez with 12 each. Bondi paced the Tigers with eight rebounds, while Suzy Doughty equaled a career high with nine assists and recorded four steals. Kristen Sheffield and Amber Hill paced the Big Red with 15 each and Sheffield grabbed a team-high five rebounds.
Sheffield was named the tournament most valuable player, while teammate Amber Hill also earned a spot on the team. DePauw's McGonigal and Doughty were chosen to the team as were Rose-Hulman's Jill Floyd and Sarah Kozlowksi of the College of St. Elizabeth.
Rose-Hulman finished third in the tournament after a 66-36 win over St. Elizabeth. Katie Hamstra paced the Engineers with 14 points while Floyd added 11. Kozlowski paced the Eagles with 18 points and six steals.
Back