Newspaper Reports on "Social Action Project" of Prof. Rebecca Bordt's Class
November 28, 2006
November 28, 2006, Greencastle, Ind. - "One in four women will experience domestic violence in their lifetime, according to statistics from the National Coalition Against Domestic Violence," begins a story in Greencastle's Banner-Graphic. "Locally, more than 2,000 victims of abuse have received help from Putnam County Family Support Services in the last five years -- 2,291 to be exact. Those numbers startled a group of seven DePauw University students who set out recently to complete a project in Professor Rebecca Bordt's intimate violence class. The exercise is meant to be a more practical method of teaching students than the normal classroom lecture," writes Adam Coates.
The article details what Dr. Bordt calls a "social action project." The professor and seven of her students, led by junior Betsy Ballantine, waged "an awareness campaign that included placing signs around Greencastle and spending a day handing out information on domestic violence at a local shopping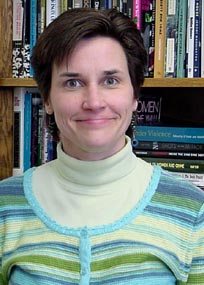 center," notes the newspaper.
"It's an opportunity for kids to take what they've learned and apply it to the real world," says Bordt, associate professor and chair of sociology and anthropology at DePauw (seen at right). "I thought it was very creative. I wanted them to choose a project that excited them. I was really impressed."
Adds Ballantine, "We really just wanted to get the information out there and raise awareness. I don't think people really realize the problem we have with domestic violence in our communities."
The other students who took part in the project are Sonja Bugvilionis, Sadaf Fatima, Caroline Provan, Allie Schack, John Sibbitt and Casey Thompson.
Read the complete story at the Banner-Graphic's Web site.
Back