Deborah Daniels '73 Named President of Sagamore Institute for Policy Research
November 28, 2006
November 28, 2006, Greencastle, Ind. - Deborah J. Daniels, a 1973 graduate of DePauw University, has been appointed president of the Sagamore Institute for Policy Research (SIPR), effective December 1. Daniels is a former United States Attorney who served the Bush administration as Assistant Attorney General for the Office of Justice Programs from 2001-05. She maintains her partnership with the law firm of Krieg DeVault LLP.
"Deborah Daniels is a person of outstanding reputation and credibility in the public policy arena," says Dan Coats, the former United States Senator who co-chairs SIPR's board of trustees. "We are thrilled that she will be taking the helm of the Sagamore Institute at a critical time in its development, and are confident that she will take the organization to the next level in terms of its prominence and effect on public discourse, in Indianapolis, throughout the State of Indiana, and across the country."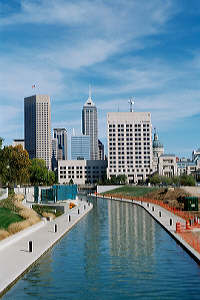 "I am humbled by the board's trust in me, and I am excited about the opportunity to work with top-quality researchers, policy analysts, and thought leaders here in our city and state as well as nationally," says Daniels. "The Sagamore Institute fills a significant need in our community for applied research and reasoned discussion of policy issues that extend far beyond our borders."
SIPR was founded in 2004, with the aim of conducting research and analysis of public policy issues affecting the City of Indianapolis, the State of Indiana and the nation at large. Visit the organization online by clicking here.
At Krieg DeVault, Daniels provides counsel to public and private sector clients in matters affecting homeland security, disaster preparedness, strategic planning, and federal and state regulatory compliance. She is also a principal of the Council for Excellence in Government, a national organization that works to improve the performance of government at all levels.
Her appointment is noted in today's Indianapolis Star and at Inside Indiana Business.com.
Back