Sophomore Voice Student Wins Lafayette Orchestra's Keller Competition
November 29, 2006
November 29, 2006, Greencastle, Ind. - Shie Kantor, a sophomore voice student in the DePauw University School of Music, is one of three winners of the 2006 Lafayette (Indiana) Symphony Orchestra Keller Competition. As a finalist, Kantor will receive a cash prize and perform with the symphony as a featured soloist this Saturday, December 2, at 8 p.m. (photo shows Kantor in last spring's DePauw Opera production of The Magic Flute)
Kantor, a graduate of Lafayette Jefferson High School and voice student of Caroline Smith, will perform George Frederic Handel's "V'adoro, pupille" and Carl Maria von Weber's "Kommt ein Schlanker Bursch gegangen." She recently placed first in the state at the National Association of Teachers of Singing (NATS) competition in the sophomore women's category.
At DePauw, Kantor performs with the Chamber Singers and with the DePauw Opera Theater; in March she played the role of Papagena in Mozart's The Magic Flute, and will be participating in the upcoming opera Die Fledermaus, which will be staged February 8-11, 2007 in DePauw's Moore Theater.
"She is a talented, deserving student," says Professor Smith. "We have had other DePauw voice students win the Keller Competition, but they have been seniors, so it is especially significant that Shie has won this award as only a sophomore. Her future is bright and I look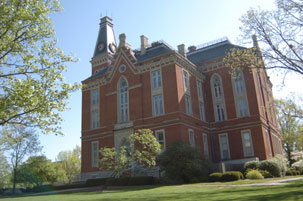 forward to hearing her with the symphony Saturday evening."
Tickets for the performance -- which will take place at the Long Center in Lafayette -- can be purchased by calling (765) 742-6463. Prices begin at $15 and half-price tickets are available to children and students.
Founded in 1884, the DePauw University School of Music is one of the oldest in the nation and has an established tradition of educating leaders in virtually every facet of music, including performers, educators, composers and administrators. Learn more here.
Back