Ed Garnes '99 Contributes Essay to Not In My Family: AIDS in the African-American Community
December 9, 2006
December 9, 2006, Greencastle, Ind. - The new book, Not In My Family: AIDS in the African-American Community, includes essays from a wide range of individuals, including U.S. Representative Jesse Jackson Jr., Omar Tyree and Edward M. Garnes Jr., an Atlanta-based writer and 1999 graduate of DePauw University. Garnes' contribution is entitled, "Sweet Tea Ethics: Black Luv, Healthcare, and Cultural Mistrust." The short biography printed alongside the piece references Garnes' DePauw degree.
The founder of From Afros to Shelltoes, a grass roots organization focused on using art as a tool of empowerment, Garnes' essay states: "Effective strategies for combating the spread of HIV must take into consideration how the African-American way of being is directly influenced by the permanence of racism, and how cultural mistrust informs the help seeking behavior of our people."
The book is edited by Gil L. Robertson IV, who states, "Edward Garnes' erudite and thought-provoking essay raises serious questions regarding the distrust that many in the black community have towards the health industry. It's a brilliant piece of work that I feel very fortunate to include in this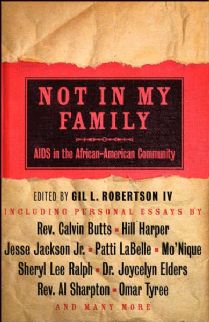 collection." Robertson has tapped Garnes to speak on the national book tour for Not In My Family.
"Famous voices, such as Al Sharpton, Patti LaBelle and Randall Robinson, as well as four congressional representatives are here, but the full power of this book rises from the personal testimonies of African-Americans writing from varied sexual, gender, class and lifestyle perspectives," opines Publisher's Weekly. "This passionate collection is strengthened by William Yarbro's context-setting essay and highly practical advice from Jocelyn Elders, Herndon Davis and Dyana Williams. 'Having watched countless accounts of the virus's impact on the African-American community,' Robertson writes, 'I was dismayed by how few African-Americans were an active part of this dialogue.' Not any longer: those voices are loud and clear," the review states.
Read more, and order the book, at Barnes & Noble.com and Amazon.com.
Back