Song with DePauw Roots Recounted in Newspaper Article
December 3, 2006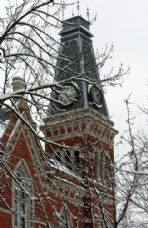 December 3, 2006, Greencastle, Ind. - A story in Indiana's
Chesterton Tribune
detailing some of the "treasures" of the Westchester Township History Museum notes, "The most recent item is the sheet music for
Ev'rybody's Kissing Ev'rybody But Nobody's Kissing Me
which dates to 1965. It was written by Philip and Helen Purcell Maxwell [both 1924 graduates] and dedicated to Edward and Mary Morgan [members of the Class of 1900]. The two couples became friends through DePauw University in Greencastle, Indiana... The Maxwells told the
Chesterton Tribune
that at an alumni event at DePauw Mrs. Maxwell heard Mrs. Morgan say 'Everybody's kissing everybody but nobody's kissing me' and that inspired the song."
The text adds, "The Morgans built their home at the corner of Morgan Ave. and Wilson Street in 1915 and Edward became president of Chesterton State Bank. The Maxwells lived in the Chicago area but retired to Chesterton. Philip worked for the Chicago Tribune and was in charge of the Chicagoland Music Festival for many years.
The sheet music was among the items discussed in a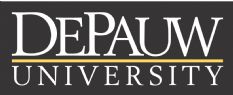 presentation entitled, "Treasures from the Museum Attic." As the newspaper explains, "Items selected for the program were chosen because they are rare, one-of-a-kind or because they have an important story to tell about local history. Their stories span a century and provide a window into life through the years."
Read more by clicking here.
Back