Basketball Teams Begin SCAC Play with Victories, Both Now 5-1
December 3, 2006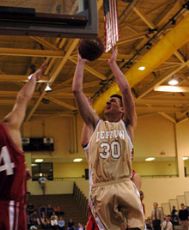 December 3, 2006, Greencastle, Ind. - "Stephen Schott scored 25 points as the host Tigers (5-1, 1-0 Southern Collegiate Athletic Conference) edged the host Colonels (4-3, 0-1)," reports the Louisville Courier-Journal of DePauw's 73-67 win over Centre College Saturday.
Of the women's team, the Lexington Herald-Reader notes, "DePauw held the
visiting Colonels to nine baskets (eight field goals and one free throw) in the first half to build a commanding 60-19 lead in the Southern Collegiate Athletic Conference opener for both teams. After the Colonels (2-4, 0-1) took a 3-2 lead on a three-pointer by freshman Chelsea Goodman, DePauw went on a 24-5 run, and the rout was on. The Tigers (5-1, 1-0) extended their home SCAC winning streak to 27 games."
For comprehensive coverage of Tigers athletics, click here.
Back