Entrepreneur Angie Hicks '95 Now Keeping 'List' in 83 Cities
December 5, 2006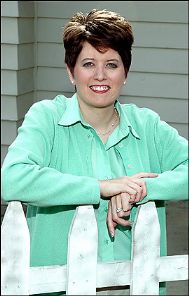 December 5, 2006, Greencastle, Ind. - "They feel a social obligation to report about their experience," Angie Hicks, co-founder of Angie's List and 1995 graduate of DePauw University, says of subscribers to her service. "There's that social contract: 'I'm going to report on my roofer, so you'll report on your plumber, because I'm going to need a plumber someday.'" Hicks and her company are profiled in the Post-Standard of Syracuse, New York, a market Angie's List recently entered.
"Angie Hicks began the list with her co-founder, Bill Oesterle, 11 years ago in Columbus, Ohio, when Oesterle was having trouble finding contractors to renovate a 1920s-era house," writes Nic Corbett. "The two met when Hicks was interning at a venture capital firm, where Oesterle worked. Hicks was a recent graduate of DePauw University with a degree in economics."
Now in 83 cities across America, Angie's List "made $9 million in revenue last year and has 200 employees. From 2002 to 2004, Angie's

List was ranked in the Inc. 500 index for being one of the country's fastest-growing privately owned companies," the newspaper points out. Hicks adds, "There's no other service out there that takes the local approach that we do."
Read the complete text by clicking here. Learn more about Angie Hicks in this previous story and access a July Washington Post article on her firm here.
Visit Angie's List online by clicking here.
Back