DePauw One of Nation's Top Comprehensive Universities: US News & World Report
December 5, 1983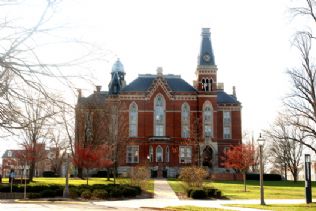 December 5, 1983, Greencastle, Ind. - DePauw University is ranked #4 among "Comprehensive Universities" east of the Mississippi River in the November 28 issue of U.S. News & World Report. The magazine surveyed 1,308 four-year college presidents, who were asked to name the nation's highest-quality undergraduate schools. DePauw is tied for fourth place with Skidmore College (New York). Bucknell, Wake Forest and Furman are 1-3 in the rankings of comprehensive institutions, which offer liberal arts and professional programs but few, if any, Ph.D.'s.
Among large universities, Stanford was selected as America's best for undergraduates, edging out Harvard.

More than 50% (662) of the college presidents who were contacted for the survey replied. "Each of the presidents was asked to pick the five best undergraduate schools from a list of institutions most similar to his or her own in terms of enrollment and the range of academic degrees and programs offered," writes U.S. News. "The educators were asked to base their judgments on the quality of academic courses, professors, student bodies and general atmosphere of learning provided."
Back