Indianapolis News Features DePauw as University Prepares for 21st Century
April 7, 1989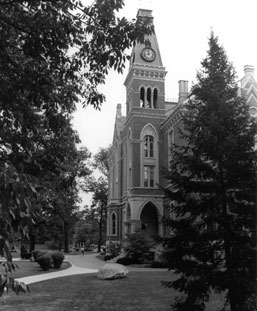 April 7, 1989, Greencastle, Ind. - "By the 21st century, DePauw University wants to become a beacon of quality higher education -- but not by sacrificing the Midwestern values which have shaped its course during the past 152 years," begins an article in today's Indianapolis News. The story notes the restoration of East College, the construction of new buildings for science and mathematics, the performing arts and physical education, and that "DePauw's Sesquicentennial Campaign nearly tripled the university's endowment from $34 million in 1980 to $95 million in June 1987."
Linda Gillis writes that there "has been noticeable progress in the areas targeted as priorities by President Robert G. Bottoms in his 1986 inaugural address. DePauw has increased the size of its faculty, enrolled more minority students, strengthened its science program, added courses in Asian and Afrian studies, [and] committed more money to faculty development programs. Now the university wants to create a long-range plan."
The article is published on the second day of a three-day event, The DePauw Conference on Leadership in the 21st Century, which has brought together more than 350 DePauw alumni in Indianapolis.
"DePauw is a top-flight liberal arts college that has attracted a
special caliber of students," says Richard D. Wood, a 1948 DePauw graduate who chairs Eli Lilly & Company and the University's Board of Trustees. "It's size and location have contributed to students' unique learning and social experiences. These are elements the institution must keep in mind as it comes to grips with its mission and reppraises itself."
"We are developing a broader, richer curriculum here -- one that will help create world citizens," Dr. Bottoms tells the News.
The lengthy piece includes profiles of several current DePauw students, including Beth Hentze of Arlington, Texas; Natasha Dotson of Indianapolis; and Doug Driemeier of Florissant, Missouri. Dotson tells the paper, "A real plus about DePauw is its size. You really get a chance to know people and you have a lot of access to your professors. Some of the best friends I've ever had, I met here."
Source: Indianapolis News
Back