"Evenhanded" Lee Hamilton '52 in Spotlight as Iraq Study Group Prepares to Release Report
December 5, 2006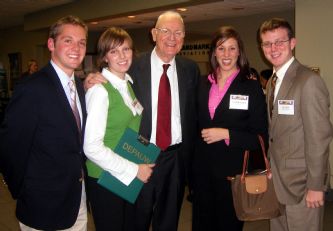 December 5, 2006, Greencastle, Ind. - "Television cameras dogged former Rep. Lee Hamilton last week as reporters pushed for details about the Iraq Study Group he co-chairs," begins an Indianapolis Star profile of the 1952 DePauw University graduate. "The panel, which will release its recommendations Wednesday, has received as much attention as the 9/11 Commission, which Hamilton also helped lead. And those are just two of the high-profile foreign policy advisory and leadership roles Hamilton has undertaken since retiring from Congress in 1999," notes Maureen Groppe. (at top: Hamilton with a group of DePauw student journalists in October)
The story points out that Hamilton, 75, also serves on President Bush's Foreign Intelligence Advisory Board as well as the president's Homeland Security Advisory Council. He also directs the Woodrow Wilson International Center for Scholars.
Thomas Mann, a congressional scholar at the Brookings Institution, tells the newspaper, "Hamilton has enjoyed an amazingly productive and influential career since leaving Congress. He must still be living off the energy he built as an Indiana basketball player." A basketball player at DePauw, Hamilton is a member of the Indiana Basketball Hall of Fame.
Adds Charles Kupchan, a senior fellow at the Council on Foreign Relations: "I think Hamilton is widely viewed as an elder statesman, in part because he's been a fixture of the foreign policy community for decades. There's a fairly small circle of people that are able to combine gravitas with expertise with a reputation for evenhandedness politically."
Hamilton states, "Building a consensus is the toughest part of politics. I think it's very easy to walk into a room and blow it apart." Groppe adds, "Hamilton said the only way he knows how to reach a consensus is to talk. 'And to talk. And to talk.'"
Read the complete article at the Star's Web site. Lee Hamilton was also recently featured in the Chicago Tribune.
Hamilton was on the DePauw campus in October to discuss the Iraq war and other matters at DePauw Discourse 2006: Issues for America. Access a story -- including video and audio clips -- here.
Back