As Iraq Study Group Issues Recommendations, Co-Chair Lee Hamilton '52 is Profiled in New York Times
December 6, 2006
Also: "Lee Hamilton '52 at DePauw Discourse 2006"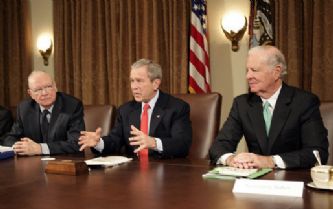 December 6, 2006, Greencastle, Ind. - Lee H. Hamilton's "disdain for partisan battle, often to the annoyance of fellow Democrats, and his willingness to work toward compromise on national security policy" are noted in a New York Times story published today. Hamilton is a 1952 DePauw University graduate who co-chairs the Iraq Study Group, which releases its recommendations this morning. Vernon Jordan '57 is also a member of the ten person panel. (photo shows, l-r, Hamilton, President George W. Bush and James Baker in the Cabinet Room of the White House this morning)
A member of the U.S. House of Representatives for 34 years, Hamilton was "a leading Democratic voice on foreign policy," writes Philip Shenon. "On the Iraq Study Group, Mr. Hamilton is demonstrating, as he did in Congress, that he is not in lock-step with Democratic leaders, who have mostly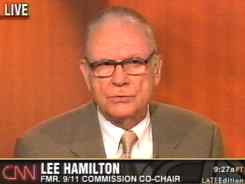 recommended a sharper reversal of American policy than the group will propose... Panel members say the co-chairmen, Mr. Hamilton and former Secretary of State James A. Baker III, a Republican, have formed a close partnership that has allowed the group's five Democrats and five Republicans to transcend what might have been bitter partisan differences over the conduct of the war. The group's report is unanimous."
Shenon notes that Hamilton's "father was a Methodist minister, and the future lawmaker's traditional, religious upbringing in Evansville, Ind. might help explain his reputation in Congress for fair play and his enthusiasm for hard work. He arrived at his desk in the House by six most mornings. After graduation from DePauw University in 1952 and the Indiana University School of Law in 1956, he practiced law before entering Democratic politics. He was first elected to the House in 1964, swept into office in a traditionally Republican district as part of President Lyndon Johnson's landslide that year."
Lee Hamilton has also been profiled in recent days in the Chicago Tribune and Indianapolis Star. Like those
articles, the Times also notes the bipartisan respect he commands.
Today's story reports, "Mr. Hamilton said in a speech last spring that in his decades in Congress, he was often asked, 'Why don't you focus on problems here at home?' The answer, he said, was simple. Americans lived in a world, he said, in which a foreign-born terrorist 'can endanger more Americans than a drug dealer in Brooklyn, where a terrorist strike can take the lives of 3,000 Americans in a few horrifying minutes.' More and more, he said, the United States needed to 'see our problems in the context of the world we live in.'"
Read the complete story, headlined "Lee H. Hamilton, a Compromiser Who Operates Above the Partisan Fray," at the newspaper's Web site. Access an Associated Press summary of today's release of the Iraq Study Group's report by clicking here.
Hamilton was on the DePauw campus in October to discuss the Iraq war and other matters at DePauw Discourse 2006: Issues for America. Access a story -- including video and audio clips -- here.
Back