Barbara Kingsolver '77 Contributes to Home Ground: Language for an American Landscape
December 8, 2006
December 8, 2006, Greencastle, Ind. - Barbara Kingsolver, bestselling author and 1977 graduate of DePauw University, is among "an extraordinary roster of writers-of-place" who contribute to Home Ground: Language for an American Landscape. Edited by Barry Lopez and Debra Gwartney, the book is "a dictionary of terms describing the American landscape and our relationship to it," writes Chris Watson of California's Santa Cruz Sentinel.
Among the 44 other writers and poets who participated in the project are Robert Haas, Charles Frazier, Terry Tempest Williams, Gretel Ehrlich and Joy Williams.
Watson calls Home Ground "an excellent resource for writers seeking to hone their writing skills. Geologists will enjoy this book too, as will anyone who desires to embrace their American-ness as fully as possible. ... aimless drainage ... baraboo ... cat holes ... karst ... littoral drift ... muskeg ... toe slope ... there are words in this book that will foster visions. Conversely, these collected terms open us up to continental knowledge that is quickly drifting away from our daily conversation."
Read more at the newspaper's Web site.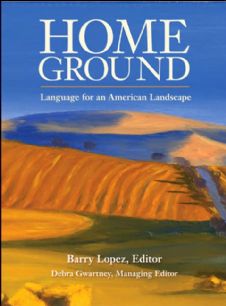 A zoology major at DePauw, Barbara Kingsolver's books include the Pulitzer Prize-nominated The Poisonwood Bible, Prodigal Summer, The Bean Trees, Small Wonder and Last Stand: America's Virgin Lands, a collaboration with National Geographic photographer Annie Griffiths Belt. She also contributed essays to Farm Aid: A Song for America and the recently-released My Father Married Your Mother: Writers Talk About Stepparents, Stepchildren, and Everyone In Between.
Learn more in this previous story, and read her reflections on her years at DePauw here.
Barbara Kingsolver created and personally funds the Bellwether Prize for Fiction, the only major North American endowment or prize for the arts that specifically seeks to support a literature of social responsibility. She received the National Humanities Medal in 2000.
Back